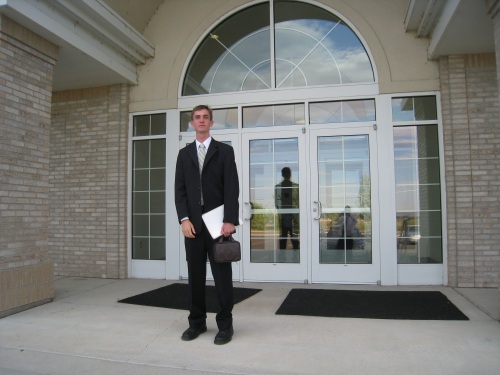 As is customary for departing and returning LDS missionaries, Jake spoke in sacrament meeting today.
Here is what he said, taken from my rickety notes:

Testimony
I will speak about testimony today. Preach My Gospel defines testimony as a spiritual witness. A priest is a lot different than an elder. On a service project priests have there hands in their pockets and lean against the wall. They have to be told what to do. An elder works through the spirit.
Graciela didn't want to be baptized even though she had been to church. I like to baptize everyone I take to church. She didn't recognize the need to repent.  My testimony wasn't good enough to convince her. After seven months of teaching her my testimony was finally sufficient. She got baptized. She didn't care about all my knowledge, just my testimony.