This is part nine of a ten part series chronicling Jake's Mission. It is told mostly in his own words using excerpts from his letters and photographs sent home.
March 2008
Not much time to write. The package is probably sitting in the mission office. We are not going to have a zone conference because the president wants us to work every day of this month, we are going to set a new mission record of 700 baptisms. This week a lot of our investigators attended church. In the next week we will have a lot of baptisms. Say "Hi" to Tyler [Stout]. I don't think we've even written in more than two years.
I typed up a nice letter but the session timed out and I lost most of it. Congratulations Steven and Adelaide. Make a cardboard Elder Willoughby for the reception. About the letter. It would help to pull out the official letter that they sent to suspend [the scholarship] and use the same formatting and terminology. "Please reinstate the Presidential Scholarship suspended (28 March 2006, but the correct date) for religious service. It will be reinstated for the Fall 2008 semester." You don't have to say anything about that I am going to miss school. The first week they usually cancel classes anyway, and I still have a week to change my schedule without penalties. Paul can fill it up with the best options and I can drop and change the ones that I don't like. I usually sign "Jake Willoughby" in the majority of cases.
I am going to send [photos] one by one. I hope everyone has Gmail so they don't get maxed out. I sent some pictures of baptisms that we had yesterday and last week. We average between two or three baptisms every week. It is a lot of work but really rewarding keeping everything balanced. The ward and bishop want to help, but they have no idea how. We help them along the best we can.
This month should be records for the mission, the zone, and for my personal mission. Every day we seek to magnify better our calling of establishing the Kingdom by baptizing more and more.
Daniel. If you want to know how to prepare for the mission, I recommend D&C 11. I like especially verses 20-21 which apply to you right now. Just put your name in as if the Lord was speaking directly to you (see verse 27).
The shoes do fit. I doubt there will be anything else that I need.
Arturo was baptized yesterday. It was a neat service because a family sang and played the flute. The only problem was I missed it because I was in a meeting! It is alright because the meeting will help us to baptize more and keep our converts active. I will make sure to get a picture with Arturo and I as evidence. Everything is good to go here. If I need anything I will just buy it. Keep me informed on of the good news each week.
April 2008
I am not in one of the baptismal pictures because I had to go to a meeting. We found Arturo the 19th of March. We knocked on the door and they let us right in. He wanted to be baptized from the first day that we went. We set a date and he stuck to it until the day came. He works as a taxi driver.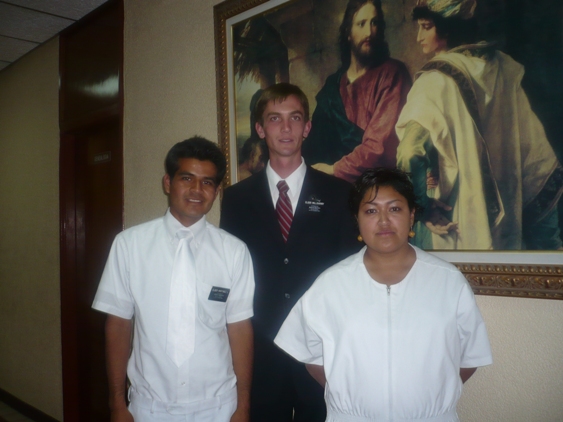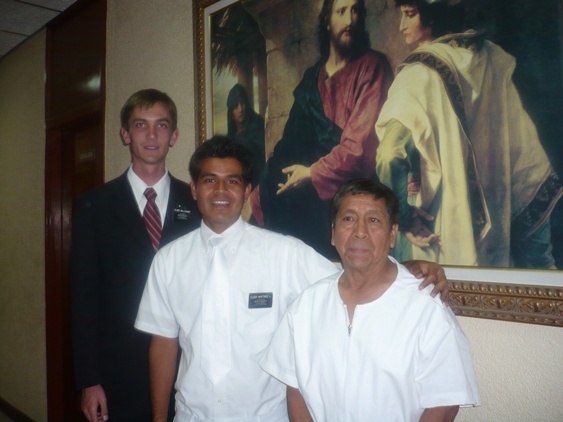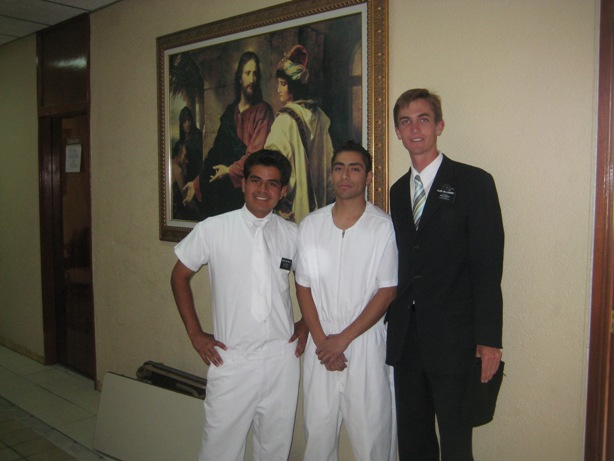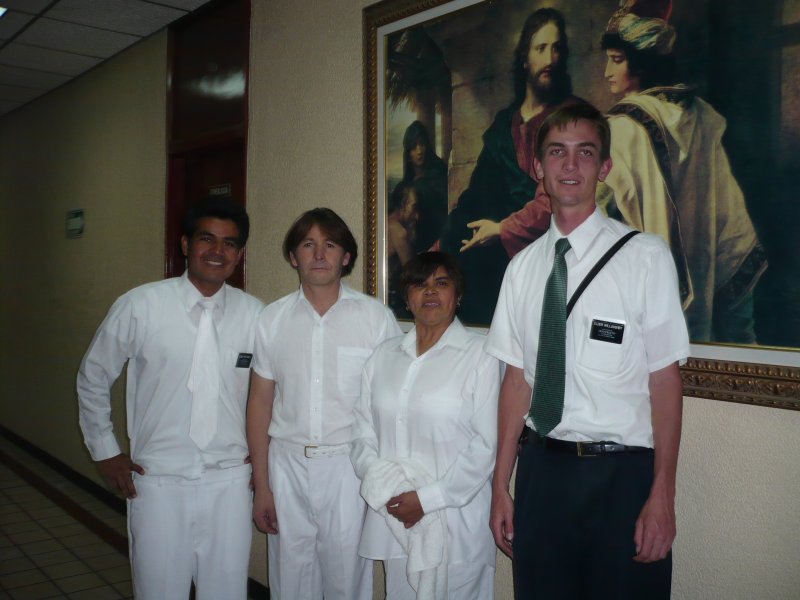 This week we also baptized a special lady, Marisela. We will baptize her daughter next week. More baptisms. Patricia and Sonia were baptized this week. It was raining really hard when Patricia was baptized and the lights went out, but everything turned out alright. We keep on working closely with the ward so they keep every single one of the converts moving and working. The ward is starting to grow and the members are opening up to give us references. Next week I am going to give a talk in sacrament meeting.
Transfers are next Monday. In March the mission baptized and confirmed 583 people. A few zones did not complete their goal (my zone did), so we came up short. My mission president wants to break the mission record of 684 and then go for 1,000 converts in a single month.
Transfers today. I will be staying in Izcalli with Elder Martinez. I gave a talk yesterday about faith to preach the gospel. A few members commented that it hit them right in the heart. I read Alma 26:24 and applied it to what members have aways told me about their neighbors. I also shared a few simple ways to share the gospel and invited to them to pray and search in the scriptures to know how to help specific people. I also read Ether 12:12 and applied it to the members. If they do not have faith God CANNOT (Dios no puede) do any miracle. I noted that God has all power and can do anything but Moroni teaches us that he can't do a miracle if there is not faith. I also read Ether 12:13-16 and showed that it was the faith of the missionaries (and members) that converted so many people. The stake president heard the talk and afterwards asked me to speak in the general stake priesthood session in the afternoon. I gave a similar talk there. Sunday we received a reference and today we received another one. I believe as we start working more through the ward we will see increased miracles and more baptisms.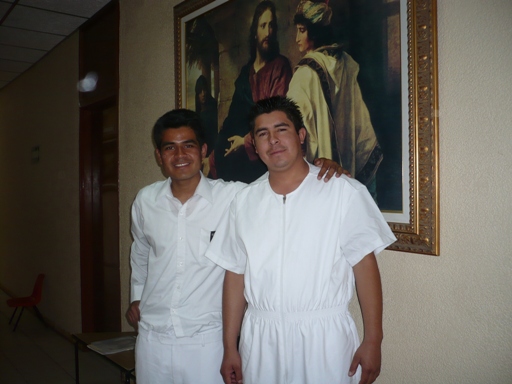 I have learned a lot in my mission about the gospel. I wish I could try and capture and send all of the glorious truths that I am learning in the scriptures. But you have the scriptures and they are just waiting to be picked up and studied. It has always helped me to set a specific question, just like Joseph Smith before the first vision, ask for the answers, and then study and study as the Spirit directs. Always, like Nephi, believing that the Lord could make them manifest unto me (1 Nephi 11:1).
Paul: El horario de la escuela serà fantastico. Si quiero hacer cambios tendrè una semana y medio todavìa para hacerlo sin penales.
If Daniel is going to leave early I can find a way to get the luggage there and I will just throw all my clothes that are worn out away.
The mission work has slowed down a bit in the past two weeks but it is only the calm before the storm. The lives of many people will be impacted for the better. We are working harder than ever and we count with the help of many members. 1 Nefi 6:4. There is nothing else to do.
May 2008
I am not sure what the goal is for this month as a mission. We have our zone conference Friday and they will let us know.
That looks like a killer pinewood derby car.
Was it Elder Bednar or Elder Bitner… It looks like Mom needs to study the words of modern-day prophets a bit more.
It might be a bit cheaper here to get the cavities filled but it is likely that they will rob me and only half fill the cavities.
Yesterday I baptized Antonio Jose Fuentes Ramirez. He has had two strokes, inflammation in his brain, and 2 other events that have effected his mind. He is a very special man.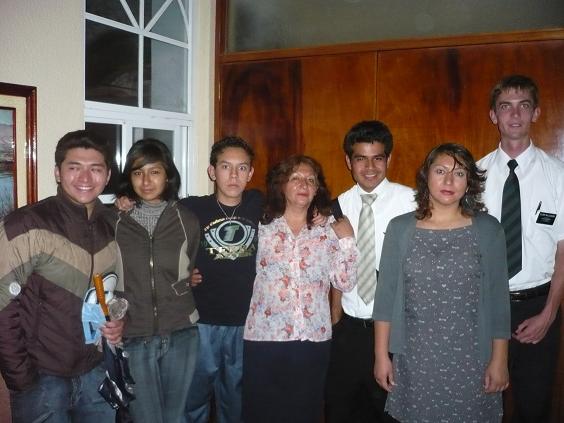 This week was interesting. A few members came up to me and gave me references. It is a great sign as it shows that the members are gaining more and more confidence and more and more faith in the missionaries. This area has suffered a lot for past missionaries were not obedient. It has taken more than three months to repair a lot of the damage.
Things are looking up. These last months should be the best because my desire to work has only grown and grown. My companion in the MTC just broke the mission record for investigators in sacrament meeting (27 investigators). He is going to go for the record of baptisms in a single month. I am not going to be left behind.
These days we are reading the Book of Mormon in Spanish as a mission. We are marking all of the prophecy of the first coming of Jesus Christ and everything that has to do with the Atonement. We read 50 pages a week.
I have learned a lot of the value of study. We sometimes have competitions in zone conferences to see who can find quotes the fastest in 'Predicad Mi Evangelio'. I win the majority of the times.
It is nice to receive such good news from the family each week. Thanks for the emails and encouragement.
This week we baptized a young man. I forgot my camera again so the pictures will have to wait. This Sunday we should baptize several and the next week another complete family! It is neat how everything that I have learned in my mission is coming together and producing many results. It is interesting how the Lord works but it is always for the best!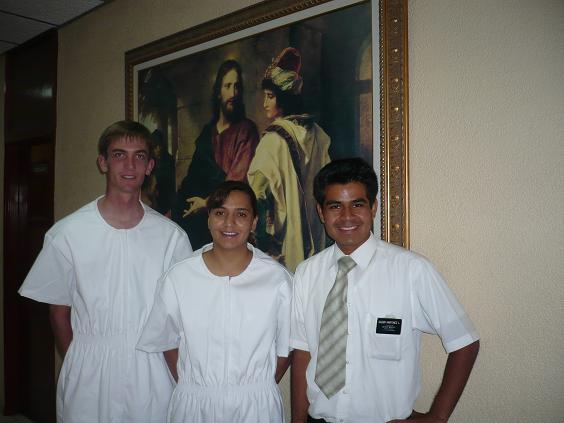 Good work in state! It is exciting to see the pictures and remember how it was.
The apartment is really big. It could be a house. If Steven ever worked 100% from home it would be a great option. There are two rooms, a bathroom, a kitchen, and a huge living room for $135 a month. That is with electricity and water included.
This week we baptized Yolanda and Uriel. She was a Jehovah's Witness. In the upcoming weeks we are going to baptize various families.
There is always a lot of work to do, and we work a lot. Every minute is worth it.