Last Thursday evening found my family enjoying the Mesa Arizona Easter Pageant, one of the world's largest annual outdoor Easter pageants. In Jesus the Christ the story is told of the Savior's birth, ministry, death, and resurrection through speech, music, dance, and drama. The pageant is not a passion play focusing on the crucifixion but rather a celebration of the resurrection of the Savior.
Pageant History
The Mesa Arizona Easter Pageant, from its beginnings as a sunrise performance on the back of a cotton wagon in 1928, has grown into a full-scale theatrical production involving nearly 1,000 cast and crew and a 9,600-square-foot stage. The presentation was not held during some of the war years but has been held every year since.
According to the official website, the pageant is appropriate for children:
It is very colorful and fast-moving. There are beautiful scenes showing Jesus teaching and healing children, as well as scenes which use animals such as sheep, miniature horses, doves, and a donkey. The betrayal, scourging, and crucifixion of Christ are portrayed, but these scenes are presented as tastefully as possible. Although children of all ages are permitted to attend, children under the age of 3 years may not be able to see as well and may be uncomfortable in the chilly weather.
Our grandson Bryson is 2 1/2 and did not watch the pageant for long. He had to be taken from the seating area so he wouldn't disturb the people sitting near us. We noticed that some of the parents of other very young children had to do the same thing.

Cast members were available for photographs before and after the pageant, in the audience or in the Visitors' Center. We were allowed to use our own cameras. However, during the performance no flash photography or video photography is permitted. One could presumably take photographs of the performance without using a flash but I didn't try this — I just relaxed and enjoyed the presentation.
Pageant Costumes
The costumes are beautiful. I was impressed at the variety, color, and quality. I learned that a 20-person costume staff works year round to research Biblical costumes, create, design, and sew them. No costumes are rented; they are all constructed by pageant volunteers. Most of the fabric is donated (some even coming from Saudi Arabia and Israel). Great care is taken to make sure the costumes are historically correct.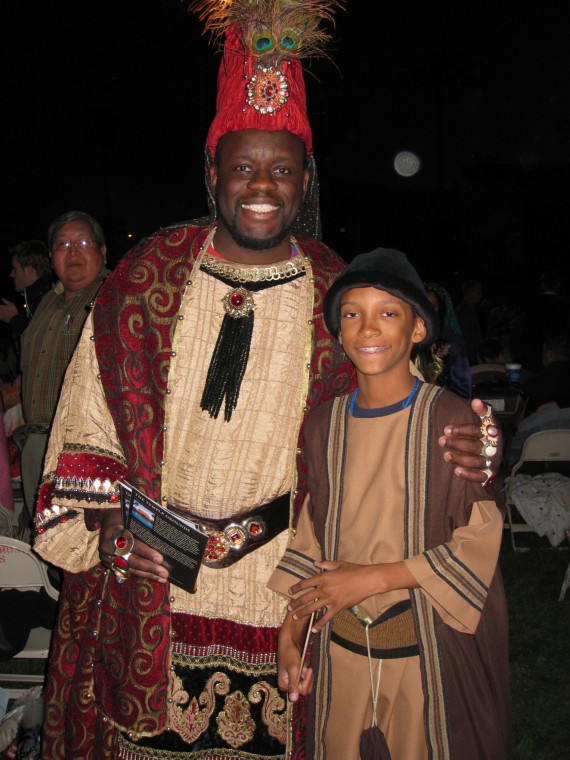 During Biblical times, cultures from throughout the Mid-Eastern World, and as far away as Africa, gathered in Jerusalem — making it a very eclectic gathering place of native costumes of all colors and designs. Of course, the pastoral people dressed more humbly in color, fabric and style. The only scene in the pageant with which is taken creative license for outdoor theatrical costuming is the Dance of the Ten Virgins' Parable.

The Romans
The Emperor of Rome, with the title Augustus Caesar, confirmed Herod as king of the Jews. Herod owed allegiance to Rome, but was free to do what he wanted within Israel.
Rome ruled all of the known world. Rome was not at war but were prepared for it. Roman soldiers were professionals who had enlisted for 25 years. They were armed with heavy javelins, called pila, and short swords of 24 inches long. They wore helmets and chainmail shirts and they carried large curved wooden shields.

At the time of Jesus Roman soldiers would have been found only around Caesarea Maratima where the Roman procurator lived. They would have been called into use when the great festivals were being celebrated in Jerusalem to prevent uprisings, or they would be needed in the execution of criminals by crucifixion.
Living under Roman rule had some advantages. Generally they allowed freedom of religion and did not interfere with the religious practices of the people they governed. The governors of provinces built temples to their own gods, where sacrifices were conducted daily. But it was the Roman method of taxation that most stung. Provinces had to pay taxes. An amount was estimated and the country split up into tax districts. As Rome had no civil service, taxes were collected by private syndicates who made a large profit by over collecting. Taxes on goods were very high. Not surprisingly, tax collectors were despised. (The Romans in Israel)

Attending The Pageant
The pageant is free and runs 65 minutes. No tickets or reservations are necessary, but space fills up quickly, with more than 100,000 people attending over the nine days. Nightly audiences range from about 4,000 to 12,000 people. On the evening we attended it was easy to find good seats but during the second week of performances the seats fill very quickly and I would recommend arriving at least two hours early. See Mesa Arizona Easter Pageant for more details.
Pageant Scenes
Photo Credit The five scenes from the performance: Mesa Easter Pageant Now on Stage
Watch a Video Mesa Easter Pageant Teaches of Christ