This is part six of a ten part series chronicling Jake's Mission. It is told mostly in his own words using excerpts from his letters and photographs sent home.
August 2007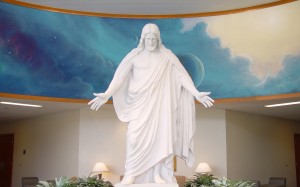 This week we didn't have any baptisms, but we found a lot of families to teach. My companion is learning all of the words that they use differently here. He is a native Spanish speaker—I have to correct some of his Spanish :). Transfers today. I am going to the Zone Valle Dorado. It is the best zone in the mission. There are 12 zones in the mission and Valle Dorado baptizes about 1/4 of the total baptisms. I still haven't met my companion and I don't know in what part I'll be so I will let you know next week.
Yes, we are baptizing stakes. This month we are going to baptize even more. I am just going to tell you this for right now, but this past week I was assigned District Leader. It is exciting to be in charge of other missionaries and have to teach them how to work! The mission is great. [Dad], I appreciate your small letters that don't distract me too much but also don't leave me out in the cold. Feel free to write more if you would like.
[Dad] please include God in every important decision that you have to make about your health. That is what Joseph Smith did. If you do that every time you have a doubt, if are sufficiently humble, God will give you the answer "abundantemente y sin reproche" (James 1:5). He will never tell you to do or take something that will do you harm instead of good. If I can ask one thing of you it is to always do this. Ask Him if you can trust Him, ask Him if you should consult Him in this. He will give you the truth, ETERNAL truth, that will "greatly enlarge the soul without guile".
Everyday I teach the principle of "Ask and ye shall receive", but I myself always forget to apply it. I try and demand answers from people, sometimes getting frustrated with them. But they cannot make my decisions and give me answers that I have to look for myself. Ask God for every little answer that you want. He will give it "without reproach". He never will say "But you did not do x or y". If you ask for bread He gives you bread.
[Dad] please let me know what you think of this principle, and if you were able to apply it successfully in this week. Please excuse the Spanish. It is difficult to keep it from sneaking in :).