This is part four of a ten part series chronicling Jake's Mission. It is told mostly in his own words using excerpts from his letters and photographs sent home.
March 2007
My new companion has the same last name: Elder Hernandez. He looks like a bishop because he has glasses and is a little fat. He is a great teacher and missionary and I am learning a lot from him.
I am still in Tultepec. The municipal of Tultepec is known for fireworks. All of this week there are going to be a ton of fireworks. They make huge bulls (kinda like the huge mammoth that we made for the Kaysville parade) and they fill them with fireworks. On Thursday they are going to parade them around and then set them off. It is a bit dangerous so we might have to go to our house a bit early.
To answer questions. Yes, they do have piñatas. They even have a song that you have to sing while the person is swinging. We had one once and broke it up for a party. The weather still changes a lot, but it is never too hot. Sleeping at night is easy. No need to worry about that. My mattress is better than the one I had at home. I've spoken in church. They usually ask us to speak on missionary work. I sum up the important parts of the restoration and bear my testimony on them. I wish I had taken that same speech class that Daniel has.
How is the math going for everyone? I tried helping out someone here, but I had forgotten how to explain how to get the answer—I always had done it in my head. All of the people have a really hard time singing. Mom, Dad sings pretty well. You only have to sit through one meeting here to know it. Not sure if you have sent the package, but I am in need of more shoes. If Paul can head out to that same store and pick up some more Doc Martins that would be great.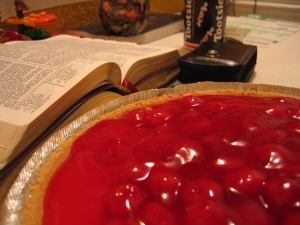 The work is growing fast here, we hope to baptize enough people in the next couple of weeks in order to divide the ward. We have a couple of families that have strong priesthood. There are four elders in this ward, so there are a lot of people in the Gospel Essentials class each week. The elders here like to hear stories of Utah where almost everyone is a member and the streets are paved with gold. Health is great, clothes are working just fine, and I could use a haircut. There is a sister in the ward that gives haircuts to the missionaries if they wash the dishes. I think I'll take her up on the offer next week.
Things are going great here in the mission. I recently read a talk by Elder Bednar about studying the scriptures. It makes my head hurt trying to use all three methods and find all of the connections, patterns, and themes in the scriptures. It is something different so it takes some practice to make it effective, but he says each method "can help satisfy our spiritual thirst."
I'll be watching conference in Spanish. The experience of a member in a different language is really fascinating. It is amazing how effectively the church manages so many members in all parts of the world!