This is part three of a ten part series chronicling Jake's Mission. It is told mostly in his own words using excerpts from his letters and photographs sent home.
January 2007
Things are good down here in Mexico. The weather is really nice—not too hot and not too cold. It rains sometimes, but never is cold enough to snow. The climate is similar to Utah but more mild. I imagine that the summers will be really hot. Usually the second thing people ask me when I say I'm from Utah is: "it snows in Utah, right?" I'm glad it doesn't snow here though—I think there would be a wreck every 5 seconds if it snowed. The driving here is crazy. Stop signs are non-existent, or if there is a stop sign nobody pays any attention. The government puts in speed bumps every intersection to force people to slow down.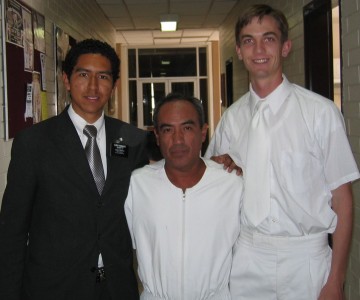 You don't have to worry about speeding either. You can just give the police 10 or 20 dollars and they will let you off the hook. At least that is what my companion says. I'm glad I took his [Brother Peterson's] class of Christian History because I understand a lot better who I am teaching. It helps to know exactly what is the apostasy and why we needed a restoration. In the mission all we have to do is make sure our investigators understand those two words—apostasy and restoration. Although all the churches may have some little part of the truth, none of them have the fullness of the gospel.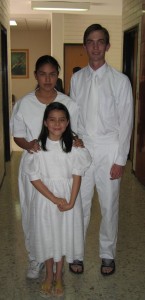 Things are great here in Mexico. My companion, Elder Rodriguez, is rad. He knows quite a bit of English but is happy to help me with Spanish as much as he can. He also seems to be an equal match in a game of chess. We are just here baptizing. Not much else goes on but the work. We taught an investigator that used to smoke and drink. In two weeks with a lot of help from the Lord he was baptized. Every time we visit him he has a ton of questions about the church and wants to know how he can serve. The miracle of the Atonement has touched his life. We baptized two little girls in a family, they think I am funny with my accent so they asked me to baptize them. Their mother will follow them into the church as soon as she gets married to her husband. It was a family that was about to be torn apart but a common focus on the gospel is stitching it back together.
My companion is always freezing. All of the people here have big coats on when it is 60 degrees outside—I always thought that was weird. I don't drink the water here—nobody does. The water that goes to the house is actually drinkable. The only problem is there isn't pressure in the pipes so everyone has a big tank on top of the house to fill up to have pressure. Because of this tank we can't drink the water—silly eh?
What helps me in my study and in church meetings is I usually have a question floating around in my head for a week or two or three. At church meetings is usually when I receive an answer from the Lord. I make sure the things I am pondering are not just nice things to know, but something that will change my actions if I knew the answer.
The transfer went well. I am in Tultepec, Mexico. My companion's name is Elder Hernandez. He is a hard worker and really cool. The mission is going well, this area proves to be promising because the chapel is within walking distance for all of our investigators.
February 2007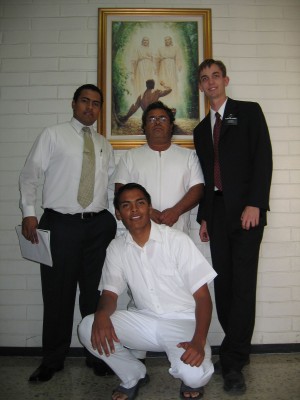 The interesting part of being in the State of Mexico is that there are very few buses. Because every direction that you go is city, there is no logical route for buses. Instead, the public transportation consists of hundreds of VW vans. You have to read the signs in the front windows for where you want to go, flag them down, and hop in. They can fit seventeen passengers and you pay depending on how far you go. It seems to work well because there are a lot of them.
They do have pizza here in Mexico, but the pizza in every pizza store is different. The only place that sells it the same as in the United States is Papa John's. I think it is because they don't have tomato sauce the same, I'm not sure.
I've managed to get a nice suntan already (yes mom, I am using sunscreen), and I am practically immune to spicy food. The only major difference in the food is that we eat a ton of tortillas. With every meal we have tortillas. It is the bread of Mexico. The squeaky tortillarias churn them out every day by the thousands of kilograms. The food here is really good. Doesn't take much adjusting, except for the fact that everything is spicy. I really like eating tortillas with avocado and a little salt. They always warm up the tortillas on the stove first so they are nice and soft.
Mexico is a neat place, really not that big of a difference from the US. Apart from the fact that very few people know how to sing or play the piano. I doubt that Mom and Dad would be able to drive here without getting in a wreck—it is 10x worse than LA.
Our apartment is normal—everything is cement including the floors, but it is very nice. Only my companion and I live there. The church down here is growing really fast. The mission president wants us to baptize enough people so they can divide the ward, so there is plenty of work to do. It is neat because our mission president served in this mission 17 or 20 years ago, so he lets us know of how much it has grown. The weather is weird, they call it "crazy February." Some days it is really cold, and some really hot, and sometimes it rains, and sometimes it hails. It can also change a couple of times in one day. I have my handy impermeable umbrella that can fold up so it isn't too bad.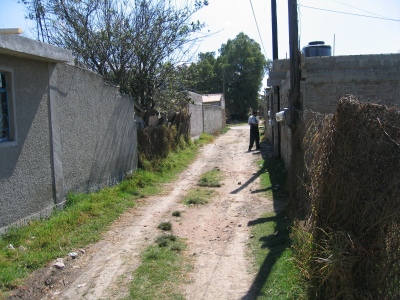 I have always been in wards and not branches. There is about an equal number of men and women, and we find lots of families that are very interested in becoming members. I don't see any reason why there wouldn't be. I'm basically perfect in Spanish. I decided to teach Spanish classes to help the natives learn their language better. It seems to be going over well. No, that is a joke. Spanish hasn't been a problem for about two months. I still study it, but it is mainly perfecting pronunciation, grammar, and memorizing words.