This is part one of a ten part series chronicling Jake's Mission. It is told mostly in his own words using excerpts from his letters and photographs sent home.
Jacob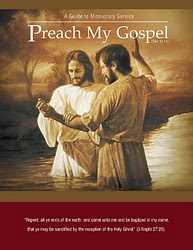 Jake is an Eagle Scout and an active member of his church since birth. He stands up for what he believes in and is also compassionate to those that are in need. He is a peacemaker and is someone you want to be around because he never looks for a fight and is helpful. He played in the school band and dabbled a little at the piano. He won three state championship events in track for Davis High School. He had a stress fracture on the day of the races and took off his support boot to run. In his 300 meter hurdles he seems to get a slow start and catches the third hurdle badly.
One of Jake's qualifying heats is a great video, as he makes up ground in this 4 x 400 meter relay. Davis are in dark brown vests and yellow shorts, the first three runners are all Jakes, my Jake running the third leg. Davis had to place first, second, or third to qualify, and Carl makes it happen even though he is not a Jake.
View Jake's 110 meter hurdles and an exciting 4 x 400 meter race. Jake runs the first leg but watch for a runner to fall and also the close finish. The cute commentary, "O man they are all on your tail", is Jake's mother, who also filmed Jake's races.
Mission
Jake is serving in the Mexico Mexico City North Mission. He has a presidential scholarship at the University of Utah and completed a year in Computer Engineering before leaving for the Missionary Training Center (MTC) in August 2006. He worked to save the entire $9,600 needed for his mission, and also purchased with his own money the necessary attire. Here are a few excerpts from correspondence to our family, in his own words.
July 2006
I haven't been up to much during the long wait until my departure date (besides work), and I feel unprepared. It feels like high school—I procrastinated and will get bad grades. I still need to go out and buy a suit, shoes, and get some shots. I finish work this week, so at least I have a little time to catch up. Seventeen days to go!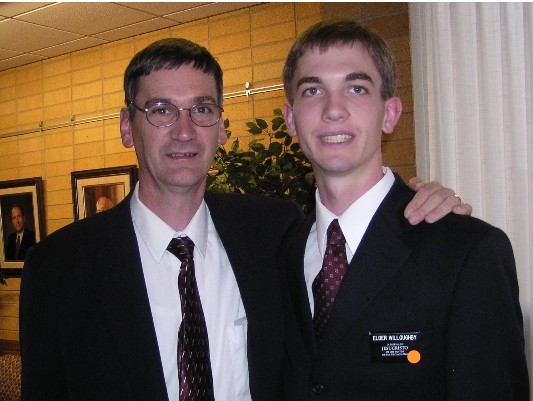 August 2006
The MTC is great. The food is really good and I eat a lot of it. I have met a dozen people that I know, including Zach Nyborg. My companion is Elder Campbell. He is from Phoenix Arizona and is really awesome. He is about 5′ 5″, so we make an excellent team. His personality is like one you have only seen on television. Regardless, we work well together. We got new missionary handbooks. The handbook is based off of Preach My Gospel and includes references to it. The spirit is very strong here.
September 2006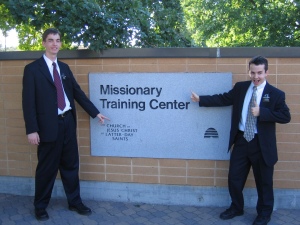 We got a new schedule when BYU started and it messed up the food lines a bit. I am having a blast here—there are no complaints. Preach My Gospel really is amazing for missionary work. It may not be as useful for Family Home Evening lessons as I had hoped, but there are superb chapters about studying, feeling the spirit and teaching. Spanish is shaky, but I think I will be slowly conversational in another six weeks. I am the only one in my class who has never taken a language, but we are to the point where that doesn't matter anymore. My companion is really fun. He has told the story of 'popcorn time' to others many times. 'Popcorn time' is when they would go and get garbage sacks of popcorn from outside theaters. They would then drive down the street until they found a good target, usually someone who was drunk. They would slow down and throw the bag of popcorn at the person and drive off. He said it completely overwhelmed the drunk people when their world was filled with popcorn. Pretty juvenile.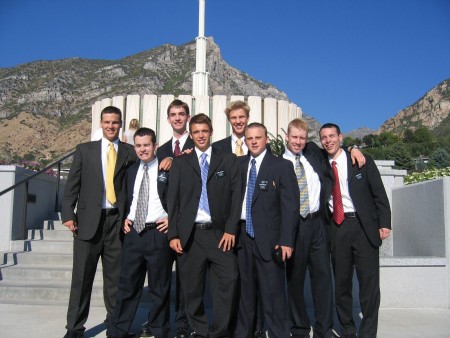 We've had nine different teachers in a week and a half, but the last two should stay with us until we leave. My clothes are working out well except I have way too many white shirts. It sounds like it can freeze sometimes in Mexico City so that coat might be needed. My roommates also strongly suggest that you should send something to share!
Things are great at the MTC. Three Elders from my district left for Peru yesterday. One of the Elders could do a fancy impression of Sean Connery. He would then do the same voice but in Spanish—it was hilarious. Everything Paul coached me on has turned out to be true, and his advice has helped a lot. I'm just learning and practicing teaching as fast as possible. We heard from a Wayne S. Peterson this Tuesday. He gave a wonderful talk on faith with many scriptures with specific application to missionaries.
Temple Photographs
Elder Willoughby took these photographs of the Provo temple while at the MTC.