This is part five of a ten part series chronicling Jake's Mission. It is told mostly in his own words using excerpts from his letters and photographs sent home.
June 2007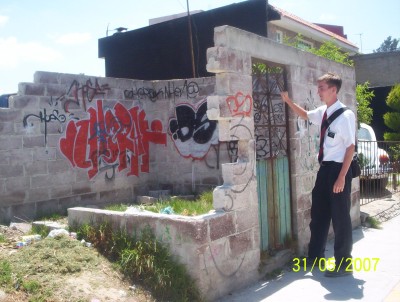 Work is going great. I think someone requested a photo of me doing some missionary work. I've attached one. Throw some skittles in the package, I can't seem to find any here.
There are a lot of people in my area that are listening to our message. Since I have been in the same place almost 6 months we keep on running into the same people over and over again. It is great because after the second or third time of feeling the spirit they usually get it. The area is big so I could spend another year in the same area.
The question about converts. Almost of my converts are active. As a mission we have about 70-80% retention. The church as a whole is growing fast, and it depends a lot on Mexico and Brazil for its growth. The ward that I am in was a branch the previous year and now they are going to divide the ward. The [mission] president always reminds us that the Lord has blessed us greatly by calling us to Mexico.
Paul, what sort of schooling are you going to get after your Bachelors? After hearing the Rise up and be Men talk by President Hinckley I think I'll try and get into some fancy technology university for my PHD. Can't let the girls win.