This is part five of a ten part series chronicling Jake's Mission. It is told mostly in his own words using excerpts from his letters and photographs sent home.
June 2007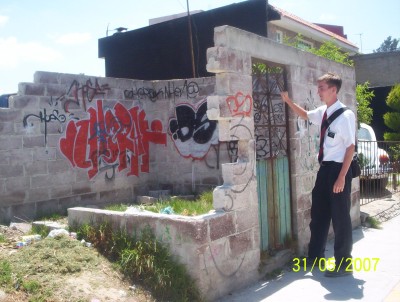 Work is going great. I think someone requested a photo of me doing some missionary work. I've attached one. Throw some skittles in the package, I can't seem to find any here.
There are a lot of people in my area that are listening to our message. Since I have been in the same place almost 6 months we keep on running into the same people over and over again. It is great because after the second or third time of feeling the spirit they usually get it. The area is big so I could spend another year in the same area.
The question about converts. Almost of my converts are active. As a mission we have about 70-80% retention. The church as a whole is growing fast, and it depends a lot on Mexico and Brazil for its growth. The ward that I am in was a branch the previous year and now they are going to divide the ward. The [mission] president always reminds us that the Lord has blessed us greatly by calling us to Mexico.
Paul, what sort of schooling are you going to get after your Bachelors? After hearing the Rise up and be Men talk by President Hinckley I think I'll try and get into some fancy technology university for my PHD. Can't let the girls win.
Daniel, keep up the good work. Get the Eagle Project done early. That is one more thing that is nice to not do the last minute. Start memorizing and applying some scriptures. Knowing the scripture mastery scriptures will make you a better missionary.
Mom, packages with candy are great. Don't worry about sending whole meals, we eat really well. I liked the cheese cake A LOT! (It didn't last very long though). If I have anything like clothing that I need I can buy it here cheaper.
Dad, running a 5k doesn't sound too much like your type of thing. Exercise really helps you feel better, but the problem is as soon as you stop doing it you start regressing back to where you were. Elder Monson says it is the same with our testimony (PMG chap 4). Keep up the good work. 12 hour days sounds tough. I haven't forgotten about the testimony that you have asked for. I am going to write it on the next long bus ride that I have.
Not much news from the mission field.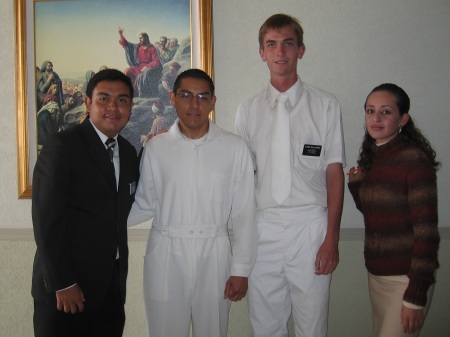 We keep working hard and doing our best. Has cross country started up again? Is Daniel going to run? Happy Fathers Day. I didn't realize that it was coming up. I'll go and find a family and baptize them for your father's day gift. Expect their picture in an email in 3 weeks.
I'm sure that you did a great job in each of them. Teaching Gospel Doctrine should help you progress. Thou therefore which teachest another, teachest thou not thyself? (Rom. 2:21). Teaching in the mission has helped me extremely in my understanding of the gospel. When Elder Ballard talked with the missionaries here he said that our progress in the church depends greatly on our ability to teach. What might help you for the next time is spend 10% of your time studying teaching principles and the rest the lesson material. That is so each time you teach you can put in to practice teaching principles (maybe from the book Teaching no greater call or the recent Ensign that talks about teaching principles) and progress from one lesson to the next. The hardest time that I have is asking good questions. It might also help to note down all of the questions you hear (maybe from Bro. Peterson?) and try and find common elements between them all. Above all the greatest help comes from the Lord in preparing the lesson and teaching it.


I am glad that I have learned what I have learned in the mission field, and I still have a ton left to learn. I've learned to follow the advice that President Hinckely's father gave him in the mission: forget yourself and go to work. We don't waste our time worrying if it will be good or if it will be bad, we do our best to prepare and get out there and start getting things done. What project did you volunteer for?
We baptized an 11 year old this week. The mother was baptized when she was 16 and never returned to the church. She is now attending all the activities in the church. The family is very special because one of her sons has downs syndrome. I forgot my camera so I will send the picture next week. That canyon looks like a lot of fun.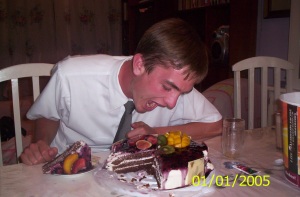 Did someone try and climb out by going up? It looks like you might be able to manage it. There are transfers next week. If I get transferred I might not get the chance to write. Échele ganas y ponga las pilas.
July 2007
Transfers today. My new area is called Guadalupe Victoria. I came in the place of my companion in the MTC, Elder Campbell, with an almost greenie (he has one month in the field). They have worked a lot so we have to keep the speed up. My new companion is Elder Modesto. He is from Peru so it is fun to watch him learn all of the Mexican words for things. My Fathers Day baptisms are in my old area. Three Señoras and 2 children will get baptized this Sunday. I'll try and get the pictures from my other companion. It was hard to leave them behind, but my new area is very promising. I have attached some of the photos from the past week. Looks like Steven's exercise plan is paying off.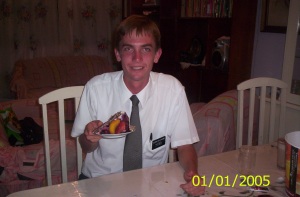 I should get the [birthday] package this week in the zone conference. Thanks for the congratulations [on turning twenty].
There are a couple of states that are a subdivision of a big city. Guadalupe Victoria is in the Municipio of Ecatepec, which is big. Lots and lots of people live here. We live in a cookie-cutter house. One of hundreds exactly alike. The area is between two four big roads. The members always feed us each day. We are extremely safe. The package did not come, didn't make the cut for this month, I'll have to wait until the next. I celebrated my birthday with a member family. They also give us food to eat every day and help us wash our clothes. I'll attach some pictures. Sounds like the physical fitness of everyone is improving. You have to watch out for those people that work in manual labor.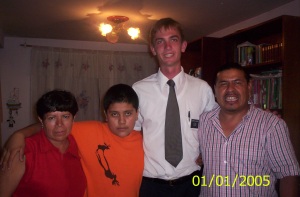 They always are really strong. We had a good first week as a companionship, setting a new record in the area for investigators in sacrament meeting. There are a few families and individuals amongst our investigators. The Bishop got [very] excited and gave a twenty minute talk about the work of missionaries. That looks like all the questions. Until next week.
Working hard and having to spend a lot of time opening all of the photos so my email will be short. Coacalco is really close to my area. In fact on two sides of my area is a different mission. Keep up the good healthy outdoor activity.
My companion is great. He keeps up just fine and even pushes me harder. This week we baptized a small family: mother, and two daughters. They were confused from many religions, but the Book of Mormon and the spirit helped them understand what they had to do. I forgot my camera, so I'll get the pictures to you next week. There are many investigators that are golden. Did I comment on the future stake president? When we started to explain how a baptism should be in our first visit he took over teaching and explained to all of his family why their baptism didn't count. He started paying his tithing his second Sunday. He knows a lot and talks a lot. Another family that I found, taught, and baptized: The parents wanted something good for their family, and the wife was in the church very young and had good memories. Two months after their baptism he was called as Young Mens President and she was called as a Relief Society counselor. On the question of activity. If you teach with the spirit they don't inactivate. We baptize a lot and they stay active. It doesn't matter who the bishop is or who the Relief Society president is they keep on coming because they know it is true. Thanks for the emails each week.
The mission is going well. Our zone finished the month well and it looks like our mission is going to reach a number of baptisms that hasn't been reached here for 10 years. [See chiasmus in the Book of Mormon and the Holy Bible] I won't give many details, but you might say we baptized a whole stake this month.