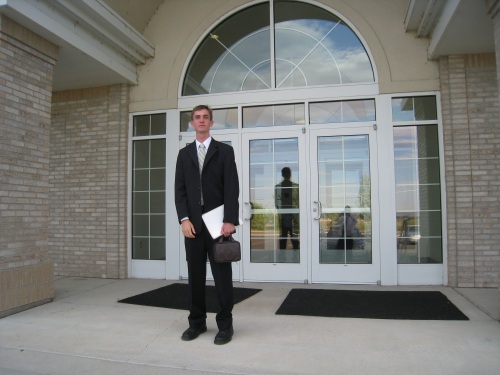 As is customary for departing and returning LDS missionaries, Jake spoke in sacrament meeting today.
Here is what he said, taken from my rickety notes:

Testimony
I will speak about testimony today. Preach My Gospel defines testimony as a spiritual witness. A priest is a lot different than an elder. On a service project priests have there hands in their pockets and lean against the wall. They have to be told what to do. An elder works through the spirit.
Graciela didn't want to be baptized even though she had been to church. I like to baptize everyone I take to church. She didn't recognize the need to repent.  My testimony wasn't good enough to convince her. After seven months of teaching her my testimony was finally sufficient. She got baptized. She didn't care about all my knowledge, just my testimony.
Baptism
When I got baptized I wanted to do good. A spiritual witness that what I am doing is right.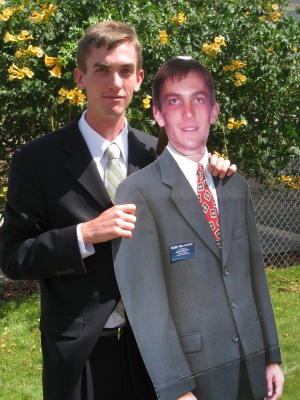 Alan lived on the top of a mountain and we found him tracting in the rain. He was living with his mother, was 30 years old, had a beard, and played in a rock band. He went to church and was baptized. Alan stopped drinking and smoking. In less than two weeks he got rid of an addiction he had all his life. Alan is now a counselor in the Elders Quorum presidency.
A Mission
A two year mission is the Lord's training school for an elder. When an elder sees a need he should take care of it. Preach My Gospel says the Lord will richly bless you as you serve Him.
I had a companion who didn't want to work and wanted to sleep in. I hadn't learned how to tell people they are wrong. So I kicked a soccer ball against the wall by his bed to wake him up.
I had another companion who taught me not to feel bad when I did something wrong. Adam and Eve hid because they had done something wrong. I learned to not hide but have faith to go to the Lord straight away to fix it.
And Christ hath said: If ye will have faith in me ye shall have power to do whatsoever thing is expedient in me. (Moroni 7:33)
Learning For Life
Everything I learned on a mission I can apply to my life. Whatever I was before, I will never be again! I testify of God the Father and His love. Christ lives and we can be saved through His atonement. The Holy Ghost will guide us through our daily lives. There is a lot of work to do. The Kingdom is not yet built. A lot of missionaries still need to go out. Preach My Gospel is very important in helping missionaries preach the gospel in their own words and be converted. Each family in the ward taught me something that helped me on my mission.
Family In Attendance
Holst: Robert. Holst: Randy, Sherie, and Alexandra. Holst: Scott, Connor, and Ashley. Ward: Kent, Susan, Melissa and Miguel (fiance), Connie and Mark (spouse), Shauna, and Byron. Willoughby: Ray, Susan, and David. Willoughby: Rick, Jill, Steven and Adelaide (spouse), Sarah and Derek (spouse), Paul and Marci and Chet (friends), and Daniel.