This is part eight of a ten part series chronicling Jake's Mission. It is told mostly in his own words using excerpts from his letters and photographs sent home.
January 2008
Looks like I have several cavities. The dentist says I could take them out right now or wait until I get back so it would be under the insurance.
Mom, I hear the exuse of "I am too old to (change/learn something new/whatever thing)" from a lot of people. The mind only gets old from disuse. The prophet is 97 years old and he has a mind very active! What a great example of diligence and perseverance. Learn the song in Spanish, not just how to sing it but what each word means and why it is that way. I have seen many people who have been born from above (see John 3:3-7 and the footnotes) in their old age and have truly walked in new life (see Romans 6:4). We should not just follow what the prophet says but also what he does.
P days we sometimes play soccer. Every chapel has a small soccer court.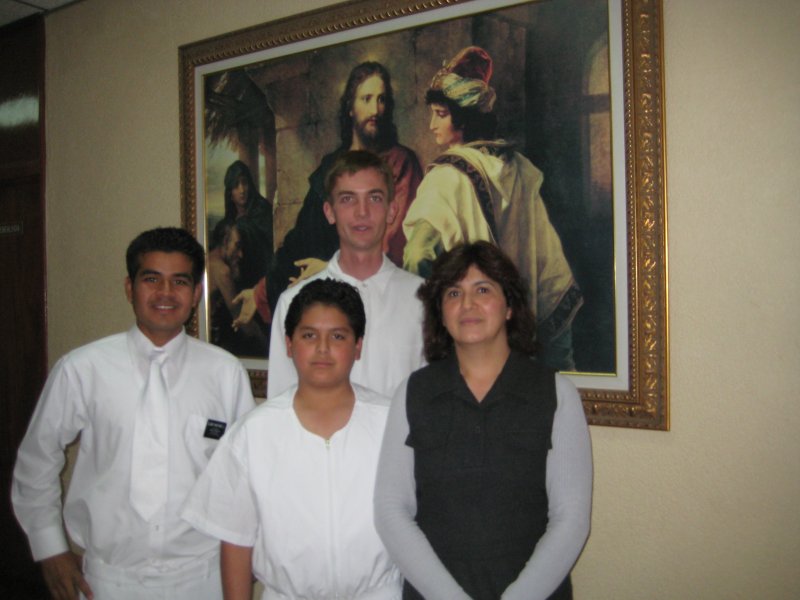 The priesthood holder that I baptized, Alan Olmos, baptized his niece this week. We are also teaching more people from his family and their baptism will be in a few weeks. I forgot the cables to download the photos from the camera, until next week!
This week we found two great families. The mom of one family said "I've been praying to know which church is the true church." I said something like "Perfect, we have an answer." She will be baptized in two weeks along with two of her five children and her mother.
I have several extremely small cavities, they don't even show up on the X-ray. He used a blue light to find them and show me them.
In December we broke a mission record of baptisms. The last record was set more than 20 years ago when my mission president was the assistant here. He said he was a little sad to see it fall, but not to missionaries like us. The Lord is truly working a marvelous work here in Mexico.
I think my email last week got returned. Transfers were today. I am now in Cuatitlan Izcali with Elder Martinez. It is a great new opportunity to build the kingdom and accelerate the work of the Lord.
February 2008
My new area is full of Christians. You might think of the eastern United States. Born again, Pentecostal, Bread of Life, Universal, all sorts of churches. I am grateful for the opportunity to share my testimony more frequently of the authority that I hold through the restoration of the priesthood. This week Margarita, who had been baptized previously by immersion, decided to be baptized with a baptism that counts—by the proper authority. The Holy Ghost is being poured out upon this area and we are blessed with many upcoming baptisms. I am a District Leader. My District only has the Zone leaders in it so I am used as a traveling district leader to motivate and elevate other districts that are not completing what the Lord expects of them.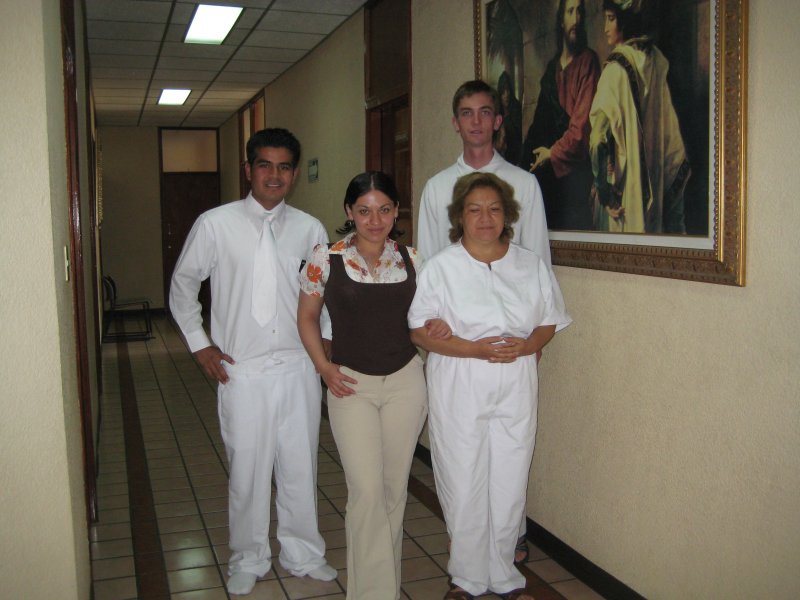 I watched the entire funeral. I enjoyed what was said and was a little emotional in the last song when they showed the clips of the prophet. A great leader is remembered and honored by doing what he taught. These months we have doubled our efforts to complete the vision that he set for Mexico.
Perhaps you do not need to worry about the scholarship office until class registration starts. Do what you feel is best.
Things are great in the new area. This week we are going to have a zone conference and the area president is going to be there (over all of Mexico). I feel like there are even more miracles are going to come as we step up another level in the mission.
The package should be here Friday in the conference. My area is southwest of Tultepec. It looks like a family that I baptized there is going to be sealed in a few months! I will keep you up on the details.
[Steven] the hospital looks like a load of fun. Get better soon because you have to get married!
I think the plan with the mission things is great! The only problem is the pants that Paul gave me are wearing out. There are a few shirts that are wearing out and a few that are still good. Everything else (luggage, camera, CD/mp3 player) is good to go.
The Area President Elder McKelsen (of the first quorum of the seventy) came to a zone conference the past week. It was a lot of needed information and revelation to push the mission to new records. I learned the most when he gave an example of how we should teach by the spirit and challenge people to be baptized. It is amazing how strong the Spirit was felt in the conference. He is a true leader because he doesn't ask anything he can't do himself.
The shoes didn't get here. I imagine at the beginning of March in the next Zone Conference.
Daniel, read "Preach my Gospel" a lot and try to do splits with the missionaries. When you get to the mission don't let ANYONE (companion or leader) cut your vision of what a missionary is and what you can do as a servant of God. Just Work Work Work!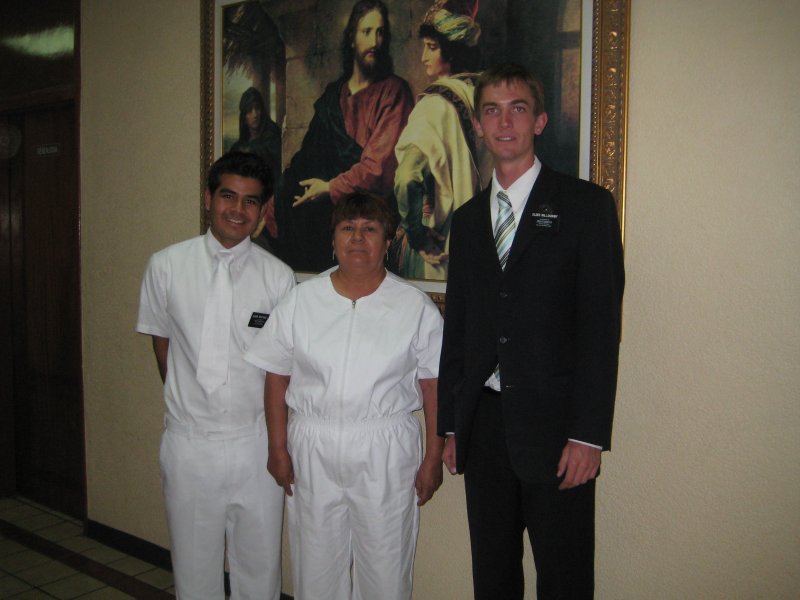 In another email I sent a picture of the people that we confirmed yesterday. Heber, Margarita, Lilia. Margarita and Lilia had been Christians for more than twenty years (here everyone who isn't catholic or Jehovah's Witness is called "Christian", they belonged to what would be a born again Christian derivative). We explained the principle of "receiving the Gift of the Holy Ghost by the laying on of hands" and they timidly followed the still small voice that they felt. We brought two new families to church this Sunday and another "grandpa" that is going to bring his entire family to church! There is a lot of work to do to finish our goals.
The ward just called a new mission leader. He has already helped us a lot.