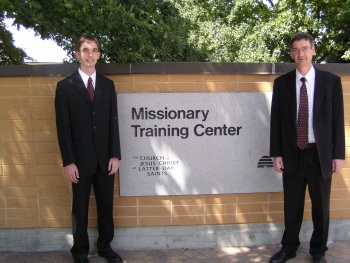 My guest writer today is my son Jake Willoughby who just sent this post via email from Mexico.
More than two years ago in May I received my calling to Mexico as an official representative of the Church of Jesus Christ of Latter-day Saints and of the Savior Himself. I remember calmly opening the envelope with the cameras rolling and reading the letter that extended my call to serve in the Mexico, Mexico City North Mission. My feelings indifferent as I was glad to serve the Lord wheresoever He desired. I had a great desire to learn another language and my two brothers had learned Spanish in their missions. I believe the realization of what I had undertaking did not sink in until I entered the Missionary Training Center in Provo.
Wednesday, 23rd of August, 2006: My family accompanied me to Provo to see me off. I had already been through the experience with my two brothers so I knew what to expect. I dropped my luggage in the indicated place, and signed in. After the short meeting they instructed us to say goodbye and part from our family through opposite doors. I had learned from my older brother, Paul, that getting it over quickly is the best way. I gave a quick hug to everyone and said "goodbye." I was eager to enter the other door and start the mission I had prepared for all of my life.