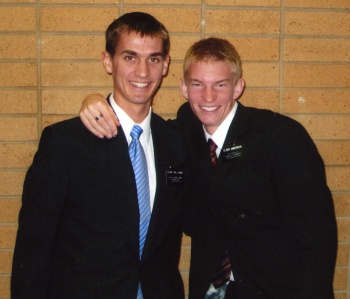 Dan and Spencer at the MTC
Presented here are portions of Elder Daniel Willoughby's eigth email from the Missionary Training Center. He has a personal message for visitors to Rickety.
Dear Family and Friends,
Christmas was very exciting. Elder Holland came in the morning and taught us about Christ. He gave us 12 names of Christ to study each day for 12 days. He called them the 12 days after Christmas. It has been wonderful to get to know my Savior better and understanding His life more helps me with mine.
The RC has again been such a wonderful experience for me. I prepared this time as I felt I wasn't doing exactly what Heavenly Father wanted me to. Through that preparation for the RC I learned wonderful missionary lessons. I was able to better follow the Spirit and help the people solve their concerns rather than just trying to get them to meet with the missionaries. I was able to bear my testimony of the Restoration of the Gospel and also of how much God loves his children. The people I talked to, some really wanted the help from the Church to get more peace in their lives. Others simply were interested in what the Church taught.
Any visitors to my Dad's blog who are searching for God's love or solutions to life's toughest questions I invite you to hear The Church of Jesus Christ of Latter-day Saints message. Our message is simple. We all have a Father in Heaven. He loves us. We are His children. He has placed us in families to help us have joy and happiness in this life. He has had a pattern of love and concern for His children throughout all of time as recorded in the Bible. He loved us so much that he sent His son, Jesus Christ, to come to earth. While on earth Christ set up His Church which taught His Gospel. He called apostles to help Him teach.
Though Christ only sought to do good, people rejected His message and killed Him and His apostles. After years of darkness and confusion God again has reached out to His children in love. He has restored His original truths taught by Jesus Christ through living prophets. The Book of Mormon is proof of this. We invite all to read it, ponder its teachings and pray for yourself to know whether God has restored His Truth to the earth.
We seek not to prove anyone wrong but to add to the good things that your religion already has. I know God my Heavenly Father loves me. I have felt of His love. He has great concern for all of His children and wants all of them to feel of His love.
I know that He has restored His truth again. It is the Book of Mormon. I know anyone that reads it will feel God's love and get answers to any concerns or challenges they face. I promise that anyone who seeks out to know Christ and seek to know Him will find out. This is His church restored to the earth today. Please request your free Book of Mormon today and find out for yourself of its truth.
Love
Elder Willoughby
Related Posts
List of Daniel's missionary posts.