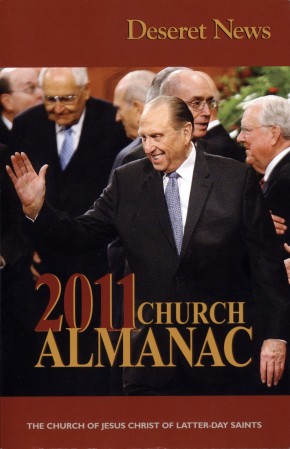 The complete updated membership statistics are available at United States LDS Membership.
I have updated the United States LDS Membership table using numbers obtained from the Deseret News 2011 Church Almanac. Half of the book is devoted to membership details from around the world. I have placed some of these numbers into online sortable tables.
The United States membership is broken down by states in this sortable table. I have added the change in membership from 2007 to 2008 (2008 Δ) and 2008 to 2009 (2009 Δ).
By sorting on the "2009 Δ" column I found that only one state, Michigan, had a decrease in membership during 2009. I discovered that the five biggest increases came from Utah (26,710), Texas (8,410), Arizona (6,405), Washington (5,294), and Idaho (3,993).
The largest LDS state populations by percentage are in Utah (68%), Idaho (27%), Wyoming (11.5%), Nevada (6.7%), and Arizona (5.8%).
The states with the most members are Utah (1,884,377), California (757,895), Idaho (410,757), Arizona (381,235), and Texas (286,902). The most temples are in Utah (15), California (7), Arizona (5), Idaho (4), and Texas (4).
The most districts are in Texas and New York (3 each). Rhode Island is the only state without a stake (District of Columbia is not a state) while two states (Delaware and Vermont) have only one stake. 24 states have 10 or more stakes each and 13 states have a Mormon population of over 2%.
If states were countries (by combining tables — sorry, you have to do this manually) then the most membership would reside in the U.S. (6,058,907), Utah (1,884,377), Mexico (1,197,573), Brazil (1,102,674), and California (757,895). The most membership by percentage would belong to Utah (68%), Tonga (45%), Samoa (31%), Idaho (27%), and American Samoa (22.5%).
You can add up the permutations yourself, try it. The World, United Kingdom and Canada memberships have also been updated.