Archives for December 2011
R
achel graduated with her Bachelors degree in Child & Family Studies and Derek with his M.B.A. To celebrate we ate out, waged Nerf War, and finished with cake. So on Wednesday it was off to Cafe Rio and then to Jake and Rachel's basement.
We divided into two teams with total annihilation of the opposing team the goal. A player was considered killed when he or she was hit in the head with a Nerf bullet. Each team had LED rings in their team color for identification.
I spent most of my time as a Nerf War correspondent, taking photographs on the front lines. Yes, it was a war out there…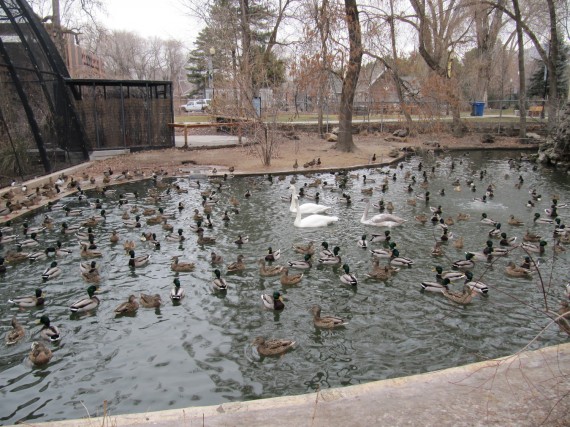 Tracy Aviary has free admission (with a $1 conservation contribution) on Winter Wednesdays through February. So I went with my grandson and other family members to see a surprising number of birds for a cold day in December.
I enjoyed seeing Bryson's reaction to the birds and also taking a few photographs (click to enlarge) of the feathered residents.
American White Pelican
Utah's largest native bird, the American White Pelican weighs up to 30 lbs with a 9 foot wingspan, and lives around freshwater wetlands and lakes.

These birds do not dive beneath the water for their prey, but instead hunt along the surface in groups, herding and corralling fish toward shore into an ever-tightening half-circle. The pelicans then dip forward in simultaneous motion to scoop prey into their expanded pouches.

One of the largest breeding populations of American white pelicans in the world, often over 20,000, gathers on Great Salt Lake's Gunnison Island, raising thousands of young each year. Pelicans can also be seen at Farmington Bay Wildlife Management Area, Antelope Island, Stansbury Lake, Ogden Bay, Willard Bay, Bear River Migratory Bird Refuge, Salt Creek Wilderness Management Area, and Cutler Marsh.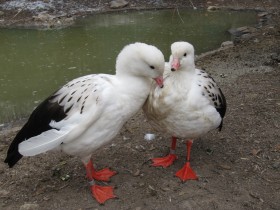 Andean Goose
The Andean Goose resides around wetlands in the Andes, above 10,000 feet, unless forced to descend to lower altitudes by winter snow.

These birds avoid swimming except in emergencies and are mainly vegetarian, feeding on grasses, sedges (perennial plants that resemble grasses), and fleshy aquatic plants.

The Andean Goose builds a shallow nest of vegetation on the ground and lays 5-10 eggs with incubation around 39 days.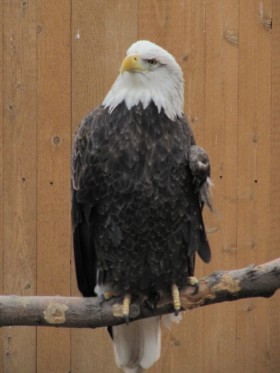 Bald Eagle
Bald eagles are found only on the North American continent living near open water from Alaska to Northern Mexico.

Their primary food source is fish but they also feed on carrion, waterfowl, and small mammals. Adult male eagles generally weigh about 9 pounds and adult females typically weigh between 12 and 13 pounds. Adult eagles have a wing span of up to 7 feet. The distinct white head and tail and yellow beak of the mature bird is developed between 4-5 years of age.

Pairs typically mate for life, which in the wild can be between 30 and 35 years. In captivity, they have been known to live up to 50 years.

Bald Eagles have such keen eyesight that they can spot fish from up to a mile high in the air and will dive at up 100 miles per hour. Eagles have been observed lifting prey weighing well over 4 pounds.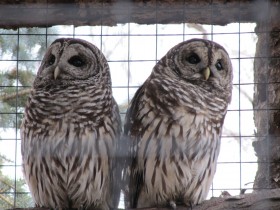 Barred Owl
The Barred Owl is native to North America and goes by many other names but is best known as the Hoot Owl because of its call. The adult is up to 2 feet long with a 4 foot wingspan and weighing 1.1 to 2.3 lbs. It has brown eyes; all other owls have yellow eyes.

The owl lives in large forests near swamps or other water in Canada, the eastern United States, and Mexico but in recent years it has spread to the western United States. Populations increase faster in suburban settings than in old growth forest. The main danger to owls in suburban settings is from cars but the increased offspring offset deaths.

The Barred Owl's nest is often in a tree cavity, perhaps taking over an old nesting site made previously by another bird or squirrel. The female incubates her eggs while the male brings her food. Hatching takes place approximately 4 weeks later.

These owls have few predators, but young, unwary owls may be taken by cats. The most significant predator of Barred Owls is the Great Horned Owl.

The principal prey of this owl are meadow voles, mice and shrews, rats, squirrels, rabbits, bats, moles, opossums, mink, and weasels. Birds are taken occasionally including smaller owls. It occasionally wades into water to capture fish, turtles, frogs and crayfish.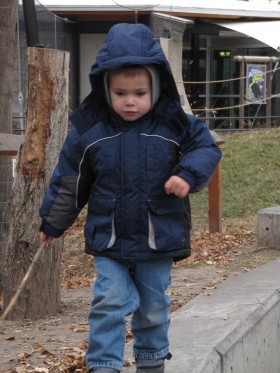 Blue-coated Bryson
Unique to Utah, the Blue-coated Bryson is only seen with this plumage in the winter months.

He feeds on mostly what is given to him but will forage for snacks at any time. He is particularly fond of cheese.

Bryson can be seen at times carrying a stick that he likes to poke objects with or drag in the soil. He is not looking for tasty grubs but is merely playing, as this species is prone to do.

It is essential that he remain free roaming as humans do poorly in captivity. However, the young (and some adults) have to be monitored constantly to keep them from mischief.

The Blue-coated Bryson thrives in the traditional family habitat, which in recent decades has been threatened.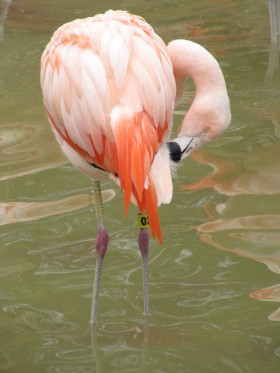 Chilean Flamingo
Chilean flamingos live in flocks of dozens to tens of thousands of birds along shallow, brackish lakes and rivers throughout South America.

Flamingos are not born pink but turn pink after two years of eating shrimp and tiny algae.

While their feet stir up algae, their beaks tip upside-down in the water, acting as a filtering system to keep food in and strain water out.

By tucking one leg up into the soft down on their stomach, flamingos release less heat along the surface area of their legs to regulate their body temperature more effectively.

Chilean flamingos build two-foot high mud nests on which the female lays one white egg on top.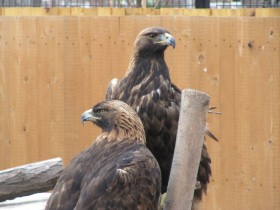 Golden Eagle
In addition to North American, Golden Eagles are found in Europe, North Africa, and Asia. They favor cliffs, mountains, and other rugged terrain. These birds have a body length reaching 3 feet and a wingspan over 7 feet wide.

Golden Eagles mature at the age of 4 and generally mate for life.

When hunting, pairs divide the labor – one bird chases its prey to the point of exhaustion while the other swoops in for the kill. They use their talons to kill and carry their prey. While they can reach flight speeds of 80 miles per hour, their average speed is 30 miles per hour. When they dive for prey, their speed can exceed 200 miles per hour.

Their diet includes rabbits, squirrels, prairie dogs, groundhogs, skunks, fox, and sometimes much larger mammals. They also prey on other birds, such as crows, pheasants, and meadowlarks. Because of the bird's impressive hunting skills they only migrate during occasional food shortages and rarely long distances.
Keel-billed Toucan
The Keel-billed Toucan lives in Southeast Mexico through Northern South America. They are a very social species and live in groups of 6-12 birds.

Female Keel-billed Toucans are smaller and have a shorter bill than the males. The species sleep in tree cavities with other Toucans. They fold their tails up and tuck their beaks under a wing to make more space.

They eat fruit but also enjoy small birds, eggs, reptiles and insects. These birds have 2-4 eggs each clutch; both male and female help to incubate the eggs.

This bird was part of the free-flighted encounters with Tracy Aviary trainers.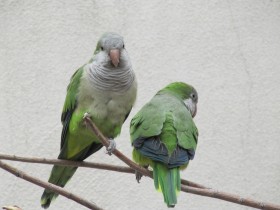 Monks Parakeet
The Monks Parakeet is globally very common and in Argentina, Brazil and Uruguay they are regarded as agricultural pests. They are found in open woodlands, palm forests and palm groves as well as urban habitats. They eat seeds, nuts, blossoms, insects, and grasses.

The Monk Parakeet is the only parrot that builds a stick nest, in a tree or on a man-made structure, rather than using a hole in a tree. They build a single large nest with separate entrances for each pair. In the wild, these colonies can become quite large, with pairs occupying separate "apartments" in nests that can reach the size of a small automobile.

These nests can attract many other tenants including birds of prey such as the Spot-winged Falconet, ducks such as the Yellow-billed Teal, and even mammals. Their 5-12 white eggs hatch in about 24 days.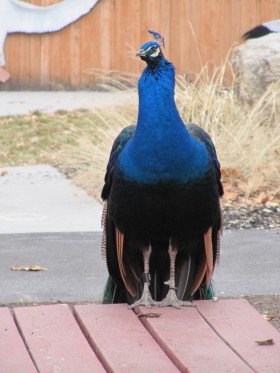 Peafowl
Peafowl are a species of pheasant native to India and Sri Lanka and are best known for the peacock's extravagant eye-spotted tail display during mating season.

While wild peafowl live in forests and open grassy areas, peafowl can now be found all over the world as pets and exhibit birds.

They are content to remain free roaming and fully flighted wherever they have adequate food and protection from predators.

The male is called a peacock, the female a peahen, and the offspring peachicks. The adult female peafowl is grey and/or brown. Peachicks can be between yellow and a tawny color with darker brown patches.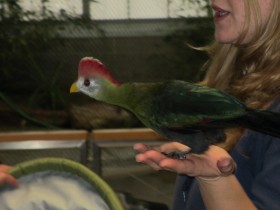 Red-crested Turaco
The Red-crested Turaco measures 20 inches from beak to tail and is a fruit-eating bird from western Angola. They are so abundant in Africa that they are considered a pest. It inhabits forest and savanna and lives 5 to 9 years. The female lays 2 to 3 eggs but the male helps in the 21 to 24 days of incubation.

Turacos are the only birds to possess true red and green color. In most birds, the color is a reflection produced by the feather structure. The turaco's red and green pigments both contain copper.

These birds have mobile outer toes, which they can rotate forward or backward. They live in large flocks of up to 30 individuals. During courtship, the male will feed the female.

This bird was part of the free-flighted encounters with Tracy Aviary trainers.
Southern Lapwing
The Southern lapwing is a ground-dwelling wading bird found throughout South America near lakes, riverbanks, open grassland and even urban areas, such as soccer fields.

During the breeding season, parents produce alarm calls that cause their chicks to crouch in the vegetation when a potential predator is near. It has such an alarming call that farmers will use this bird as a guard for livestock.

The timing of breeding for Southern Lapwings is strongly related to the rainy season. They create a nest on the ground supported with twigs and the female will lay 2 to 4 black-spotted brown eggs.

It feeds mainly at night, often in flocks, eating insects and other small invertebrates.

In Uruguay, due to its bold and combative nature it has become mascot of the Uruguay national rugby team.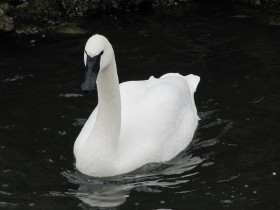 Trumpeter Swan
The Trumpeter Swan is native to Northern North America and is the largest waterfowl found in its range. These birds can live over 24 years in the wild and form tight pair bonds with their mate that lasts a lifetime.

Females lay 1-9 eggs in a large nest of vegetation near water, and eggs are incubated by both parents. The grayish-brown Cygnets leave the nest within 24 hours of hatching to swim and feed with the parents.

During the feeding at Tracy Aviary, a duck was perceived by the swans to be eating their food and was dealt with accordingly.
Feeding Time Video
Sources
Tracy Aviary
Extracts from various Wikipedia bird articles.
Credits
Thanks to Jill Willoughby for the video and the free-flighted encounters photographs.

In 2011 Rickety received 114,610 visits from 192 countries, generating 191,044 pageviews. I published 195 posts in 2011 but only two of them made it into the top ten. The remainder were written in 2010 (3) and 2009 (5). Here are the ten most popular:
10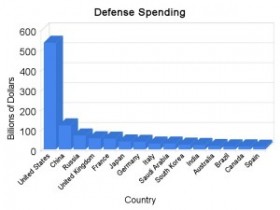 Defense Spending by Country
In the latter half of 2011, talk of spending cuts increased traffic to my defense spending posts. This is the first of three posts on the subject in the top ten.
The wide gap between U.S. and world defense expenditures is of concern to many citizens.
This post, written in 2009, placed #5 that year and #8 in 2010.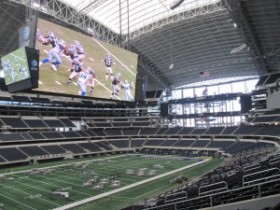 9
Cowboys Stadium Tour
Whenever the Cowboys were playing, this post received more hits. Written in 2010, it is one of only a few posts I have written about sports.
I found the tour of the stadium very interesting, considering I don't watch any football and thought the Cowboys referred to some ranchers in Wyoming.
8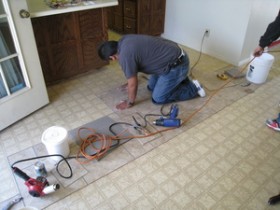 Installing a PermaStone Modular Vinyl Tile Floor
I have not written many how-to posts but this article has gradually risen in popularity until finally breaking into the top ten this year.
The flooring has stood up to wear very well and over two and a half years later looks like it was installed yesterday.
Of course it helps that it was installed after the children were grown.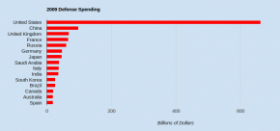 7
2009 Defense Spending by Country
In 2009, U.S defense spending was more than the next fifteen countries combined. The chart graphically illustrates the huge gap, which has been widening annually.
6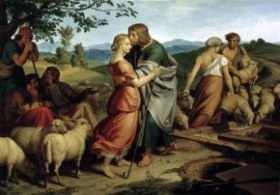 Ten Artists Paint Old Testament Women
I put together this small collection of paintings in 2010 when the Old Testament was being studied in Sunday School. It reached the top ten that year at #5.
Of the ten paintings, one of my favorites is of Huldah in Treasure the Word, by Elspeth Young. Huldah is the woman who authenticated a book of the Law for King Josiah. Another favorite is Rebekah At The Well, by Michael Deas.
5
Seven Artists Paint New Testament Women
2011 saw the New Testament as the scripture of study in Sunday School. These paintings depict seven different women but we only know two of them by name – Mary and Lydia.
My favorite is Lydia in She Worketh Willingly With Her Hands, by Elspeth Young. As Paul preached, the Lord opened the heart of Lydia. She believed Paul's words and she and the members of her household were baptized.
4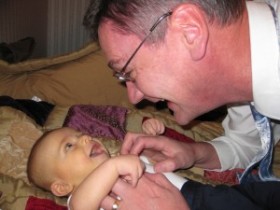 United States Total Fertility Rate Increases
This is the first post I wrote about U.S. total fertility rate (TFR). It was #1 in 2009 and #2 in 2010. Surprised at its popularity I wrote another post on world TFR which then became just as popular.
The U.S. has a higher TFR than Europe and many Asian countries and will be much more able to the weather the demographic winter that will shortly befall many nations.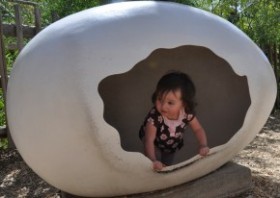 3
World Total Fertility Rate Declines
Since 1950 the world TFR has been decreasing steadily and by 2050, according to the United Nation, the world TFR is projected to drop below replacement levels.
This post has been as popular as my post on U.S. TFR and reached #3 in 2010 with pageviews numbering 5,239 in 2011.
2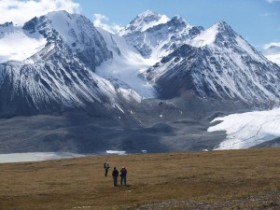 12 Beautiful Mongolian Landscape Photographs
Written in 2009, this post was #1 in 2010. Its popularity surprised me, especially as it is just a collection of photographs garnered from Flickr.
I have many posts and photographs about Daniel's Mongolian mission on my blog and this attracts a fair number of Mongolian visitors.
There were 5,578 pageviews of this post during 2011, of which 415 were viewed from Mongolia.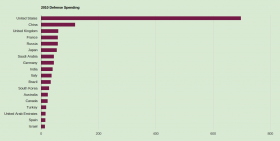 1
2010 Defense Spending by Country
This post was written in June of 2011 and shot to #1 as talk of The-Mother-Of-All-Defense-Cuts increased.
In 2011 the post captured 7,312 pageviews.
Also see the Best of Rickety.


Father Christmas came to visit
My grandchildren this year.
But when he loudly Ho Ho Hoed
They refused to go near.
So Father Christmas skillfully
Made candy canes appear.
And with this very tasty treat
He overcame their fear.
Photo Credit:
Bryson and Santa
courtesy of Jill

The complete updated membership statistics are available at World LDS Membership.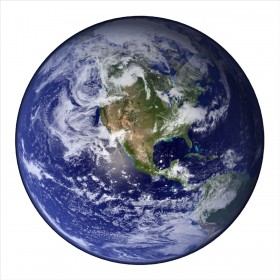 The worldwide ranks of The Church of Jesus Christ of Latter-day Saints grew by 306,613 members during 2010. According to the 2012 Deseret News Church Almanac, the Church's membership swelled to 14,131,467 as of January 1, 2011.
Countries with the largest increases were the United States (85,675), Mexico (36,972), Brazil (36,006), the Philippines (13,891), and Peru (12,747). These were the same countries that had the largest increases the preceding year.
The countries with the most members are the United States (6,144,582), Mexico (1,234,545), Brazil (1,138,740), the Philippines (645,776), and Chile (563,689). The most temples, including announced or under construction, are in the United States (79), Mexico (12), Canada (8), Brazil (7), and Australia (5).
The largest LDS populations by percentage are in Tonga (45%), Samoa (31%), American Samoa (22.5%), Niue (19.1%), and Kirabati (11.9%). The United States comes in at 14th with 2%, tied with Palau. 32 countries have Mormons representing one percent or more of their populations and 15 countries have a Mormon population of 2 percent or more.
30 countries have 10 or more stakes each. The most stakes are in the United States (1,465), Brazil (239), and Mexico (221) while there are no stakes in 99 countries.
2008 saw minor membership declines in 17 countries, 2009 had 11 declines, and 2010 had 18.


The complete updated membership statistics are available at United States LDS Membership.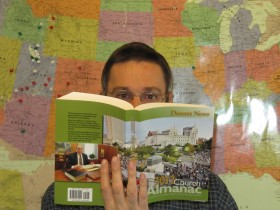 The ranks of The Church of Jesus Christ of Latter-day Saints grew by 85,675 members in the United States during 2010. According to the 2012 Deseret News Church Almanac, the Church's U.S. membership swelled to 6,144,582 as of January 1, 2011.
States with the largest increases were Utah (25,966), Texas (9,239), Arizona (6,715), California (5,475), and Washington (4,923).
The states with the most members are Utah (1,910,343), California (763,370), Idaho (414,182), Arizona (387,950), and Texas (296,141). The most temples, including announced or under construction, are in Utah (15), California (7), Arizona and Idaho (5), and Texas (4).
The largest LDS state populations by percentage are in Utah (68%), Idaho (27%), Wyoming (11.5%), Nevada (6.7%), and Arizona (5.8%). 20 states have Mormons representing over 1 percent of their populations and 13 states have a Mormon population of over 2 percent. States with the least Mormons are District of Columbia (0.37%), New Jersey (0.36%), and Rhode Island (0.35%).
24 states have 10 or more stakes each. The most stakes are in Utah (546), California (157), and Idaho (121) while there are no stakes in Rhode Island and District of Colombia.
2008 saw a membership decline in only one state, South Carolina. In 2009 it was Michigan's turn to see a decline of 43 members. In 2010, Michigan with a membership loss of 237 was joined by West Virginia (-169), Delaware (-25), New Hampshire (-7), and Vermont (-2).


I set up a train set around my Christmas tree so my grandchildren could play with it when they came to visit. The controller is hidden between two houses near the rear but Bryson soon found it.
However, things do not always work out as planned…


The following was adapted from the Improvement Era magazine of December 1911.
Exile
The November 1911 Improvement Era reported that a minister named P. Aslev, under an old and obsolete law, succeeded in banishing four missionaries from Sweden. The cause of their banishment is that they are Americans with no visible means of support, and that they preach "Mormonism."
The December 1911 Improvement Era followed up the story by writing that the exile "has roused the liberal press of Sweden to sharp opposition. They see in it danger to religious liberty."
Here is a characteristic selection from [the newspaper] Arbetarbladet, Gefle, September 23, 1911:
It is which and t'other with religious freedom here in the land. This is shown, in part, by the recent exile of the "Mormon" missionaries. It was believed that this action was taken because of the agitation carried on by the missionaries in encouraging emigration to Utah, but this seems not to be the case. The exile, according to the testimony of the actors themselves, is meant as a direct blow at the "Mormon" propaganda as such.

We have therefore to deal with blows against religious freedom itself, and against this and like things the liberal press must turn with all energy. It isn't a question here as to whether one favors or disfavors the "Mormons." We may just as well say that we consider this so-called religion especially distasteful, if not infinitely worse than Waldenstromism* and other spiritual epidemics.

But the question at issue is the right to religious freedom, even for those who may happen to be imbued with the teachings of Joseph Smith. It is a question also of opposing the officers who have taken upon themselves the task to carry into effect the driving of the "Mormons" from the land, for these same authorities may at another time turn themselves against the members of other religious organizations.

If the fight against "Mormonism" really is so necessary as it has been taken for granted, then it must at least be definitely demanded that it shall be carried on by legal means. The adoption of an unprejudiced and honorable educational campaign is the only method that can be unqualifiedly recommended.

But this educational campaign must not be handled or directed by the official coterie of religious intolerants in this our land, for in such case it will be immediately subject to question. It is just because of this situation that one can scarcely rejoice over the anti-"Mormon" propaganda which is at present developing in Sweden, through the efforts of the imported American pastor Aslev. It has always been considered a questionable tactic to drive out the devil with Beelzebub.
[P. E. Aslev was called to a pastorate in the Swedish state church in 1911 to counteract Mormon propaganda. Aslev had served as a pastor in Utah and had written a report suggesting that the Swedish government banish all Mormon missionaries.
*Dr. P. Waldenstrom, professor of theology, editor, and member of the Swedish Parliament, created consternation in religious circles by declaring that the death of Christ was no atonement, no vicarious suffering, but simply the death of a martyr.]
USS Utah
The Battleship "Utah," turned over to the government by the builders, the New York Ship-building Company, on August 30, was placed in commission at the Philadelphia Navy yard on August 31, with Captain W. S. Benson in command. It joined the Atlantic fleet soon as supplies were put on board. "Utah" is the fifth of the all-big-gun type to be launched, is 551 feet long, and has a displacement of 21,825 tons. It developed 21.63 knots on the speed test. It has ten 12-inch guns mounted in five turrets.
The silver service for the ship, provided largely by the children of the state, was on display at Leyson's in Salt Lake City until the middle of October, and there was no objection by the Navy Department to receiving it. On Monday, November 6, the service was formally presented on board the vessel by Governor William Spry, at the Brooklyn Navy Yard. There were some five hundred Utah people present, including the Tabernacle choir of two hundred voices. Captain Benson, in accepting the service said: "We appreciate the honor shown us by the people of Utah, and we hope they will feel as proud of our ship as we are of this silver service. The service represents the state of Utah, and we mean to defend to our utmost the honor and good name of that state." The choir sang "The Star Spangled Banner," and "Utah we Love Thee."
[Details of the amounts collected for the silver service were reported in the August 1911 Improvement Era. An official first state flag for Utah, was given to the Battleship Utah, as reported in the April 1911 Improvement Era. Follow the link for additional details about the USS Utah.]
Elections
The City Elections in Utah were held Nov. 7, under the new nonpartisan law. The result was quite satisfactory, the new law being generally pronounced good. In Salt Lake City, a non-partisan Commission, with Samuel C. Park, as mayor, was elected, and the "American" party domination was overthrown by a substantial vote, which ranged from 4,146 majority for Park over Bransford, the "American" candidate, to 6,459 majority for W. H. Shearman, non-partizan candidate for Auditor, over Kimball, the "American" candidate. The motto of the non-partizan candidates is "Peace, progress and reform," which, being greatly needed, let us hope we may get.
[In 1911, a State law changed the form of government for cities of the First and Second Class in Utah from the old Council form to the Commission form of government. This form of government was again reversed in 1981. The American Party, also known as the Anti-Mormon Party, was formed in Utah in 1904 to counter the influence of the LDS Church. The party performed disappointingly in the 1911 elections and was disbanded that same year.]
Adapted from: "Passing Events", Improvement Era, Vol. XV. December, 1911. No. 2.