To access Waterfall Canyon, begin at the 29th Street trail head and take the trail to the left at the shelter and follow the sign. This is a moderately difficult trail with some scrambling for hikers and bikers.
Hardly anyone works on a Friday, including me, so yesterday I went on the Waterfall Canyon hike with family. Left to right below is Connie (niece), Jill (wife), Adelaide (daughter-in-law), Steven (son), Aurora (granddaughter), Susan (sister-in-law), Shauna (niece), and Rick (myself). Click on a person's head and a photograph from the hike will appear. I had no suitable photos of Susan so hers is from a recent Parrish Canyon hike.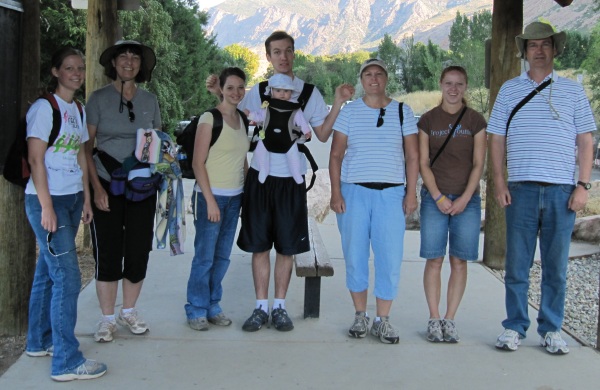 Beginning…
Watch the expression on the face of Steven (the one carrying the baby). If you ever get a decent photograph of him you should win a prize.
Midway…
The rocks were not nearly so bad as it seems from this video.
At The Top…
It wasn't a long hike, just under an hour. The day was not too hot so the walking was pleasant.
Photo Credits
Adelaide, Jill, Rick, and Steven.