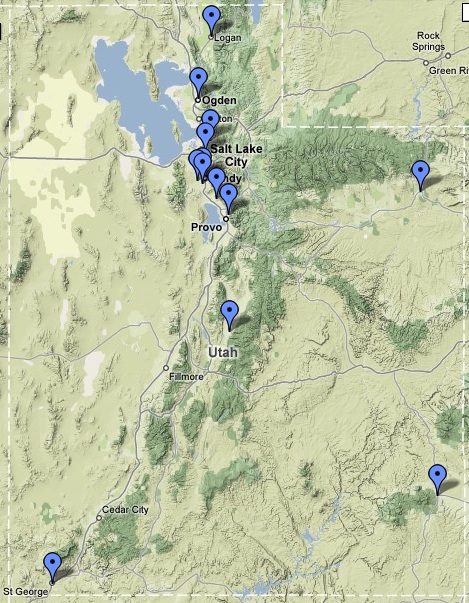 Utah has eleven temples with two more under construction. I am planning a road trip to visit all the Utah temples, including those under construction. By the time I get going perhaps the temples being built will be finished. I am considering going through a session at each temple, except of course those under construction.
These are my destination temples. I need to plan the route and the times so that I don't arrive at a temple when it is closed. If anyone wants to come along we can work out the car pooling and the dates once I have a head count. Remember that we will be stopping by the two temples that are under construction.
The first thing to do is to plan the route. The starting point is Kaysville. One route would be to head north and pick up Ogden and Logan. Then south to visit the six temples (two under construction) grouped together south of Kaysville. That leaves Vernal, Manti, Monticello, and St. George with the most distance to cover. I will have to look at the map to see the best route for those. I will post some photographs of the temples when I return. If you have a route planned or want to go on the trip communicate so in the comments.
Update
Five of us actually went in October on our Utah Temples Tour.