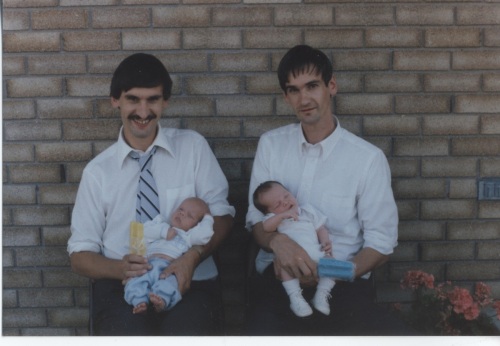 The picture quality is not that great. It is a scan of a photograph from twenty-one years ago. My brother is on the left with his son David and I am holding my son Jacob. My wife Jill and sister-in-law Susan were both pregnant and due in the same month. We all liked the name of David so we agreed that whichever child was born first would take the name David. Susan's baby came prematurely and so we chose Jacob to be our son's name.
The photograph was taken shortly after we arrived home from the baby blessing at Church. That is why David and Jacob are dressed in white. Though Ray is not a member of the Church I asked him if he would like me to bless David along with Jacob.
He said he would like that so on the day I named and blessed Jacob first and then with Ray in the circle I named and blessed David. For a short period non-member males were allowed to participate in the blessing. This practice was discontinued soon after it began. David just happened to be born in that window when Ray was allowed to be in the circle.
I cracked open my journal to August 1987 and here is what I had recorded:
The blessings were today. I blessed Jacob first, with Bishop Chambers, Bro. Reynolds (2nd. counselor), Alfred, Mike McCraley (Bishop of Val Verda 3rd. ward), Kent Ward, Dennis Jeppesen (the home teacher). Dean Foust, the other home teacher, was out on Reserves, so couldn't be there.

I blessed David; Ray stood in the circle and Bro. Jeppesen had sat down. The blessings went well with David being blessed with strength and courage as David of old, and to be obedient to his parents and to have the opportunity to serve a mission.

Jacob's (sic) was blessed also to serve a mission and to be true to his name by believing only in the God of Abraham, Isaac and Jacob which is the God that members of the Church worship and is found nowhere else. Also to have faith in God. Jacob was told to be grateful to have been born with great blessings of this free nation.

We had a fine meal afterwards, a cold buffet but was it ever good. Aunt Glenna & my grandma came as did Jill's mom and dad and Randy, Jill's brother.
Today finds Jacob on a mission in Mexico due to return home next month after two years. David is making his way through life and is a fine young man. If anyone remembers anything from this time feel free to comment.