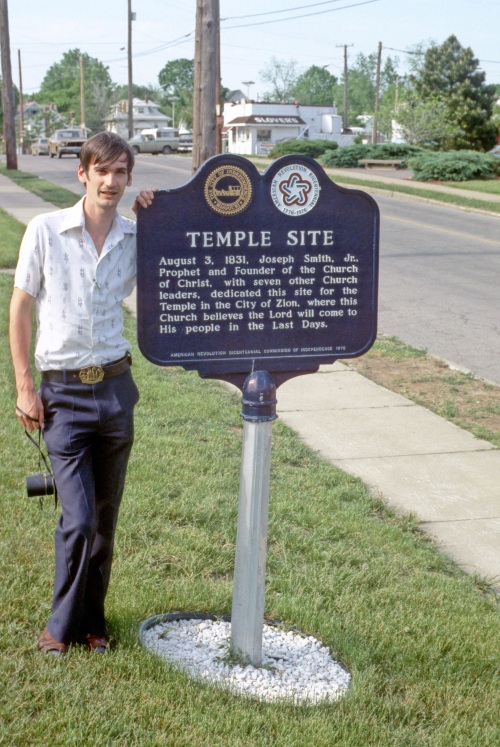 The Temple Lot
In 1979 I visited the United States for the first time. This photograph was taken with my camera while I was in Independence. Independence is an interesting place to visit. The most fascinating spot is the Temple Lot, mostly because of its history. There is nothing on the two-acre site except grass with a church building on it and the sign you see me standing by. The building is the headquarters of the Church of Christ (Temple Lot).
History
On July 20, 1831, the Prophet Joseph Smith received another revelation with more details about the temple site. Joseph Smith who originally dedicated the temple site in 1831, and his followers, were evicted from Missouri in 1839 before a temple could be built on the Temple Lot. In 1847, the city of Independence formally incorporated with the Temple Lot. The Church of Christ Temple Lot returned in 1867 and purchased the temple lot properties, including the dedicated site for the temple. In 1891, the Reorganized Church of Jesus Christ of Latter Day Saints, sued in the United States District Court for the Western District of Missouri to take possession of the property. It won in lower court but lost in the Court of Appeals on the basis that it had waited more than 20 years to make a claim. The United States Supreme Court refused to review the case. Ground was broken on April 6, 1929, for the construction of a temple, with instructions that the temple was to be completed within seven years. The Church of Christ (Temple Lot) never completed construction of the temple.
The Temple Lot Today
The Church of Christ (Temple Lot) maintains a visitor's area on the lower level of the church. They have stated that they will not cooperate with other Latter Day Saint organizations in building a temple, nor will it sell the Temple Lot.