Nephi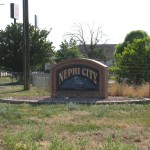 Jill and I were invited by Kent and Susan Ward to spend the night at Camperworld in Nephi. So Friday afternoon we loaded up the van, threw in the tent, food, and some old chairs and picked up Sarah and Derek on the way.
After a two hour ride we were eating supper at Nephi's One Man Band Diner (even though there were three people serving). Kent, Susan, Connie, Shauna, and Byron were already well into their meal.
I ate bacon, eggs, sausage, pancakes, hash browns, and toast. Water to drink because I am watching my weight.
We made camp at Camperworld and ate a few cookies because it had been all of thirty minutes since we had last eaten. Shauna and Connie test the camp chairs for comfortability after pitching their tent. It was decided to go swimming in the pool. Derek and I were undecided but changed to the affirmative when Susan brought a Frisbee with a hole in it with which we played monkey-in-the-middle for quite some time. We had the whole pool to ourselves. See, take a look. Children were not allowed to swim after 7pm but that didn't stop a family with two little boys from trying to take a dip. The boys were kitted out with water wings and were eager to paddle. Pool management appeared and said otherwise and one of the boys cried. I said, "Get used to it kid, life is full of disappointments", in a very uncharitable voice, out of earshot of the parents of course. Someone had the bright idea to get a tiny sliver of wood and dive and release it in the water. The rest of us then had to find it. Jill won this wood sliver game by standing in the same spot in the pool and would find wood almost every time.
After we were thrown out of the pool it was time for a snack around the campfire. It was another opportunity to take a group photograph. Sarah and Derek brought some strawberry turnover kits to make into dough boys. The dough boys are made by wrapping the turnover dough in the form of a cup around the end of a broom handle and heating in the fire.
When cooked fill with strawberry filling and top with frosting and whipped cream. See what it looks like when it is cooked.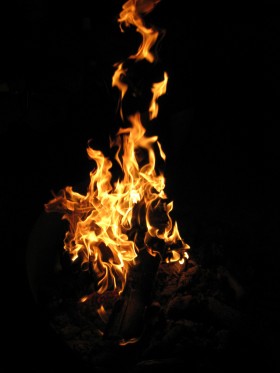 Here it is with the filling. This is what it looks like being eaten.
There were bats flying nearby and if you shielded your eyes from the bright camp light you could see them catch a big fat juicy moth. Now I never did see any bats but I did see plenty of moths. Whether they were juicy or not I'm not able to say. I rather think my fellow travelers were worshiping the camp light god. Around eleven we turned in. It wasn't long before I was in my sleeping bag. The temperature was just right for sleeping.
After breakfast Derek, Byron, and Shawna played Frisbee under a blazing relentless hot Nephi sun. Later several of the party played horseshoes. We broke camp and left on the Nebo Scenic Byway. Every year it experiences four distinct seasons.
The organisms of the Byway must be equipped with special adaptations to survive the changes from freezing ground, to high temperatures, to changing day lengths. Leaves changing colors, and animals entering hibernation are examples of adaptations. Plant species can be found growing in specific elevation zones. Below 8,000 feet a variety of brushes including sage brush, scrub oak, and serviceberry are present. The zone from about 8,000 to 10,000 feet is predominately quaking aspen, alpine fir, and Engelmann spruce. See, I can read the signs.

Mount Nebo
Mount Nebo, at 11,928 feet above sea level, is the highest peak in the entire Wasatch Mountain range which stretches as far as southern Idaho.
Indians once built signal fires on the summit of Mount Nebo which was named by the early Mormon pioneers after the Mount Nebo in Palestine. The name Nebo means "Sentinel of God". In 1869, W. W. Phelps was the first settler recorded to ascend the mountain. There are several land slumps where no vegetation is growing. These slumps occurred during the extremely wet years of 1983-84, when the moisture content of the soil was so great it could not hold its own weight and slid down the mountain.
The 1800's found several groups of pioneers settling the valley below Mount Nebo. These early pioneer settlers relied on the nearby mountains for food, fuel, and shelter to ensure their healthy survival. As pioneer communities became more established in the area, the settlers began to use the mountain for more than basic survival needs. In the 1870's and 80's, the development of mines and railroad spur lines increased logging in the Salt Creek area.

A saw mill stood where Bear Canyon Campground is now located. Logs from Bear Canyon were floated in a flume to a mill, where they could be prepared for shipping. Early settlers also quarried grey sandstone from Salt Creek, and red sandstone from nearby Andrews Canyon. Even Mount Nebo was a mining sire where gypsum was removed for making plaster.
Devil's Kitchen
Before the birth of the Wasatch Mountains, nearly 80 million years ago, streams were actively eroding a mountain range in this area and depositing sand and gravel at the mouths of canyons. The deposits were eventually buried and cemented to form conglomerate.

The conglomerate has been carried upward with the Wasatch Mountains as movement on the Wasatch Fault raised the mountain range to its present heights. The red color is due to oxidation of iron within the conglomerate. The forces of weathering and erosion are very active here. Because the cementing material is weak and the slopes are steep, erosion occurs rapidly. The result is the uniquely sculptured landscape we call "Devil's Kitchen". Cone erosion creates cone-like forms because there is no capstone to protect the material underneath. The upper portion also weathers more quickly because the material is weaker than the bottom portion.
We stopped along the way to take several photographs and at the end of the Byway we had a picnic. It was then into Payson, northward and homeward.
Check out Derek's blog for his report.