This is part four of a ten part series chronicling Paul's Mission. It is told mostly in his own words using excerpts from his letters and photographs sent home.
December 2004
I talked with some construction workers and the other elders, looks like they all vote for laminate [for your floor]. Two of the members have really nice laminate floors that look great. If you can include a Mexico map in the Christmas package, the others are great. I've been working on memorizing the script to the restoration movie because we watch it a lot. If you get some extra time could you rip the Spanish audio off and send it to me on CD?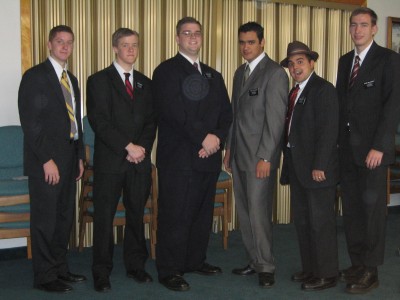 Steven or Jake should be able to help. After you rip the movie, virtual dub can save off a wave file of the audio which can be burned onto CD.
Yes my suit and pants still fit. I'm still the same size except my ribs don't stick out anymore. The second suit that they sent they sent the pants a size too small expanded out to the largest setting which is an inch too small. They fit now but I couldn't say for how long. I've got it hanging up in my closet and don't wear it because I really don't need two suits. If you haven't bought Jake's yet I'll send him this one. It looks really sharp and should fit him well. I still have the box if Jake wants it, if not maybe you could have the pants traded in for me and I'll wear it on the way home. Christmas calls are one hour long. Some of the members have free long distance so I might call from them if they offer. Do you have some sort of card for me if that doesn't work out? Transfers are December twenty first so if you are sending anything that isn't going to make it to the apartment before then send it to the mission home. About packages can you send some more black socks? I like the thick kind.