This is part four of a ten part series chronicling Paul's Mission. It is told mostly in his own words using excerpts from his letters and photographs sent home.
December 2004
I talked with some construction workers and the other elders, looks like they all vote for laminate [for your floor]. Two of the members have really nice laminate floors that look great. If you can include a Mexico map in the Christmas package, the others are great. I've been working on memorizing the script to the restoration movie because we watch it a lot. If you get some extra time could you rip the Spanish audio off and send it to me on CD?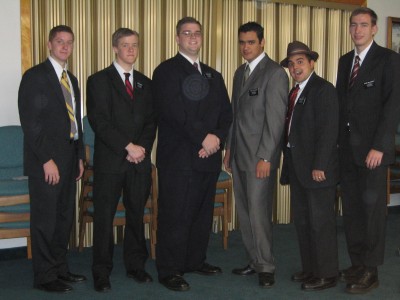 Steven or Jake should be able to help. After you rip the movie, virtual dub can save off a wave file of the audio which can be burned onto CD.
Yes my suit and pants still fit. I'm still the same size except my ribs don't stick out anymore. The second suit that they sent they sent the pants a size too small expanded out to the largest setting which is an inch too small. They fit now but I couldn't say for how long. I've got it hanging up in my closet and don't wear it because I really don't need two suits. If you haven't bought Jake's yet I'll send him this one. It looks really sharp and should fit him well. I still have the box if Jake wants it, if not maybe you could have the pants traded in for me and I'll wear it on the way home. Christmas calls are one hour long. Some of the members have free long distance so I might call from them if they offer. Do you have some sort of card for me if that doesn't work out? Transfers are December twenty first so if you are sending anything that isn't going to make it to the apartment before then send it to the mission home. About packages can you send some more black socks? I like the thick kind.
We, the six missionaries in the branch and the ward missionaries, sang Con fe Absoluta in sacrament meeting the other week, Steven might have it, it is on the Yo Tengo Fe cd #3. This morning I made Grandma's rolls from the last New Era's recipe. They turned out tasty, golden brown and fluffy. However, my arm is sore from all of the mixing and we don't have a rolling pin so they were all different sizes. I've been experimenting in milk shakes lately, we have an ice maker so I borrowed the little ice cube trays from the other missionaries and made milk cubes. After they were frozen I mixed them up in the blender with a little vanilla and a lot of sugar and like magic, ice cream! OK talk to you later, send the cookie recipe that I like.
I received your note Friday night, packaged up the suit and meant to send it on Saturday but I didn't get to it until this morning. I sent priority mail which is 2-3 days so it should be there on time. Turns out calls are only half an hour, I'll call in the morning, 8:00 California time if I remember. Can I use the toll-free or do I have to buy a phone card? Does Jake have bigger feet now? Maybe you could send me his old ones. I need another pair of running shoes, the ones I have are too small. Yeah some guy took an axe to the Christus. Our zone leader was there with an investigator so he told us about it. The temperature is good 60's or so, I always walk around in my short sleeve shirt. It doesn't rain that often. I went to the grounds, I forgot my camera.
The Christmas parcel arrived on the second day of Christmas so we have been having fun opening a present each day.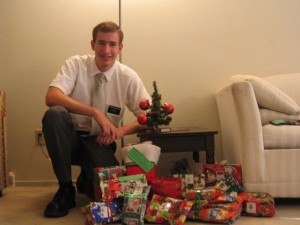 On the back of the Hersheys kisses that I received there was a recipe for peanut butter kiss cookies so I whipped up a batch for district meeting. They went over really well. The ants have been having a hay day at the apartment attacking every crumb in sight. I didn't bother to get rid of them because I was leaving. They weren't eating the chocolate kisses so I thought the m&ms were safe. Arriving home after church I popped a big handful in my mouth only to feel something crawling on my hand. Sure enough, ant m&m soup. My new companion is Elder Salazar from Mexico. He is cool. Now I can understand Spanish well, but it costs me to speak it. I thought that suit would fit Jake well. Was the waist too big? They don't have Walmarts here, there is only one in the whole mission as far as I know and it isn't in my area.
Yeah, I liked the speaker phone [when I called home]. I also enjoyed the pictures. I'll have to see if I can find one to send you, if not just give them one of Steven and tell them it is me. We went shopping at the green meat store we found the other day. They had some weird stuff but it was cheap. They also have a Little Caesars here, pizza is my companion's favorite food so we have been eating there a lot. The mission sent my companion and I Christmas packages because they thought we had not received any. I think I have 4 sewing kits now.
I had interviews today and it sounded like I'm transferring. The president didn't say for certain but he dropped some hints. The next preparation day is transfer day, they changed it to the 20th for this round, so I might not be able to email this coming Monday.
Good work on the CD
January 2005
I've met a few Konradians out here that will be going to school with us, it should be fun. I like the big pictures but my mail box is almost full and I have spend all my library time trying to fix it. The thing I find difficult is never having learned how to study. Now I have study time and have a hard time making good use of it. I'll have to come back to this, I'm out of time. I like the food, but I'm getting too big for my clothes so I'm having to cut back. It was a holiday Monday so we are writing now, catch you next week.
I haven't received the package, they take forever. I'll probably get it this Wednesday. I don't know what my address is I left my planner at home, I'll send it to Tyler. We go to the temple once a transfer in the Spanish session. We worked as usual on New Years. New Years Day we had until 1:00 in the afternoon to spend as we would like. We had dodge ball planned but it fell though. I'm working on a picture. The card came in the mail.
I was wondering if anyone was using my old alarm clock, the one that broadcasts to the ceiling. I need one that I can see in the dark if anyone has a spare one that is small, the old one would be perfect. Also could you put Dragon Ball Z on the recording schedule for me?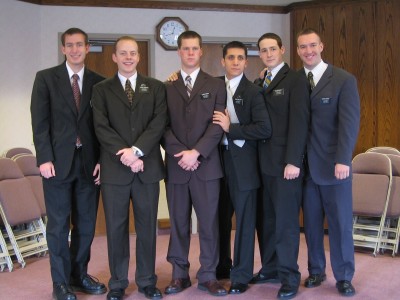 Daniel or Jake should be able to help you find it. One of the kids in the branch caught me up on what happened the last 2 years since I stopped watching it and it sounded interesting. Thanks for the Christmas_CD, I really like it.
I may be writing a check for my companion's ticket he got a couple months ago, as they won't take cash in the mail. Then I just deposit the cash he gives me back in. My roommate from the MTC is a big England fan because he plays rugby. I've been trying to remember English phrases to tell him, he really likes them.
I listen to the restoration CD in Spanish in the shower. The singing CDs just were not the same without a real choir.
The jacket of the suit is not big on me, it is a little small. Do what you like with the suit, I really don't need it here. I would think you should be able to trade in the suit coat for a small size because it hasn't had any alterations done to it. The new way of teaching investigators? I sent an email back about that a while ago, we received them about 2 months ago as far as I can remember. We don't do very much walking as we are covering six cities and everything is really spread out. I haven't done any running yet as my companion has a bad knee. I'm waiting for this next transfer to see if someone else can run with me. I use my jump rope every once in a while, the last attempt I made it to 300 consecutive jumps before I got too tired. This is the last week of this transfer, everyone will be moving on the first of February.
The work is going well this area. A member's sister, Karolina, who is visiting from Mexico is ready to be baptized but she has yet to decide if she is returning to Mexico or not. So we are holding off so she can be baptized in her home ward if she goes back. The weather is colder here, it has been raining for the past 2 weeks. Usually there is wind. The apartment is nice but the counters are ugly. They are brown cream 4 inch tile with dark brown grout. We attend the Brentwood 1st ward which is an English ward with a Spanish group. We sit in the back where one of the members translates into Spanish over the radio and the members listen with little headphones. Everyone talks really fast in English so it is hard for the translator to keep up, the ones that translate conference do a really good job. After the sacrament meeting the classes are in Spanish. I received the package and the shoes fit great and are very light. The cd is a big hit as well. I listen to it every morning while I'm showering and have most of it memorized. I know I've been showering too long when it starts over. What would you have me do with these other shoes of Jake's. Does Daniel want them?
February 2005
We had stake conference here this past Saturday and Sunday.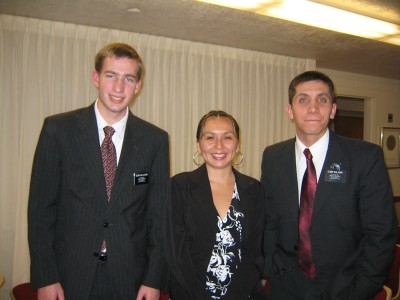 President Monson and Elder Eyring came to speak as well as some of the seventy. Twenty-seven stakes came to the leadership training, two stakes were invited to the Sunday session which was broadcast to all of northern California. The Elders in our zone did all of the parking and traffic on the Saturday leadership session so they let us go to the training. We also were one of the two stakes invited to the conference but we watched it by satellite in Spanish with our investigators in the local stake center. It turns out President Monson can wiggle his ears. It was funny. There are some really nice scripture cards at ScriptuReference that I would like but they don't seem to be available online. If you see some around send some my way.
The Presidential scholarship is no good. You have to keep at 3.9 for it from what I can remember. He would be better off with the 3.7 one. Elder Sorensen is my new companion. He is from Spanish Fork. The best thing about this new apartment is we have unlimited hot water. Spanish is coming along well. Yes we use Spanish every day. My companion and I spoke in church yesterday. It was fun.
I received the package this past Friday. It came in really bad condition ripped open and taped back up. I'm not sure if all the candy made it though. Gay people don't speak Spanish. We don't have to deal with them. It was a holiday yesterday so we are able to write the emails today. The alarm clock came, there isn't any plugs left in the room though so I can't plug it in. The wood laminate is what I like. All of the wood floors here look really bad when they get old.