Yesterday a visit to the Brigham City temple construction site yielded a few photographs. Last week the focus was on the east spire installation. Now work is progressing on the west side of the temple. It will not be long before we see the west spire erected.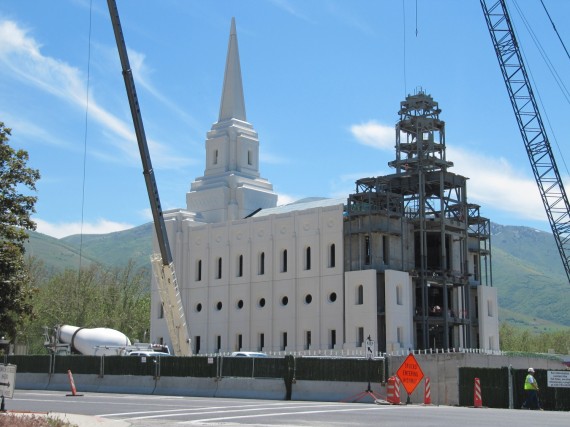 Brigham City History
Commerce
The fruit growing business in Box Elder County was thriving in the 1890s. It had been initiated in 1855 when Wiliam Wrighton went to Salt Lake City, bought 100 peach stones for $1.00 and planted them in Brigham City. Peach production was so successful that the annual harvest celebration, started in 1904, was named Peach Days.
Many men grew fruit on their own property and sold it to supplement other income. William Knudsen, however, raised and sold fruit as his major source of income. He discovered early on that the Brigham City area was particularly adapted for peaches, berries and small fruits. He established a successful fruit growing and shipping business which sustained his family members for generations to come.
The first sugar beets were planted in 1891, and dairy and creamery operations were successful. Prospecting began in the 1890s, and Brigham City's first newspaper The Bugler started printing in 1890. In 1892 the city's water and electricity systems were installed. (From: Brighamcity.utah.gov)
Photo Credit:
Jill Willoughby