Today the photographs of the Brigham City temple construction reveal the west spire in place. Last week there was only the spire framework. The statue of the angel Moroni is scheduled to be placed atop the east spire on Tuesday, July 12, 2011, at noon. Installation will take around thirty minutes. The streets surrounding the temple block will be closed to allow spectators to view the proceedings.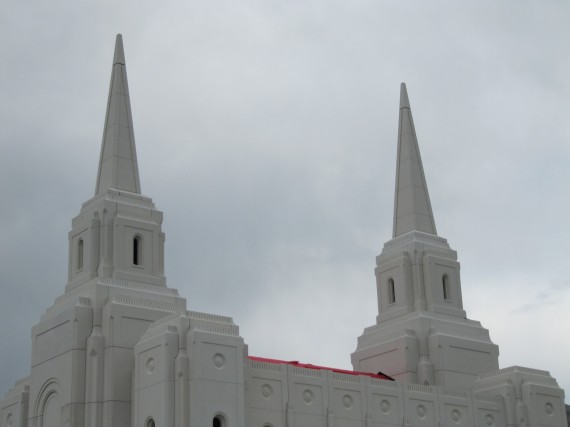 Brigham City History
Population Changes
Bushnell General Hospital, built in 1942 to treat soldiers wounded in WWII, brought some drastic changes to the quiet community. The 60-building facility constructed on 235 acres brought a major boost to the economy. From the beginning of its construction until its closure in 1946, Bushnell provided new jobs for many local people.
Local farmers sold produce to the hospital, and business on Main Street increased with the inundation of hospital staff, patients and their families. People from various backgrounds came to work or to be treated at Bushnell, then stayed in Brigham City and merged with the descendants of the Mormon settlers.
After Bushnell closed, the facility housed the Intermountain Indian School from 1950 until 1984, with its staff and students adding more cultural diversity to the citizenry
Brigham City's growth rate increased rapidly with the construction in 1957 of Thiokol Chemical Corporation's Wasatch Division, the largest manufacturing enterprise in Box Elder County's history. With its initial workforce of 150 growing to 1,425 by 1959, housing construction in Brigham City boomed. A total of 187 homes were built in 1958, twice the number built the previous year. (From: Brighamcity.utah.gov)
Photo Credit: Jill Willoughby