T
he mission of the Department of Defense is to provide the military forces needed to deter war and to protect the security of the United States of America.
Largest Employer
The Department of Defense is America's oldest and largest government agency. With over 1.4 million men and women on active duty, and 718,000 civilian personnel, the Department of Defense is the nation's largest employer. Another 1.1 million serve in the National Guard and Reserve forces.
The Pentagon
Headquarters of the Department of Defense, the Pentagon is one of the world's largest office buildings. It is twice the size of the Merchandise Mart in Chicago, and has three times the floor space of the Empire State Building in New York.
Built during the early years of World War II, it is still thought of as one of the most efficient office buildings in the world. Despite 17.5 miles of corridors it takes only seven minutes to walk between any two points in the building.
The Department's physical plant is huge, consisting of more than several hundred thousand individual buildings and structures located at more than 5,000 different locations or sites. When all sites are added together, the Department of Defense utilizes over 30 million acres of land.
Fifteen Photographs
The following photographs show the United States military in action while training and in combat. The only criteria for selection was that a photograph showed weaponry in use and that I liked the image.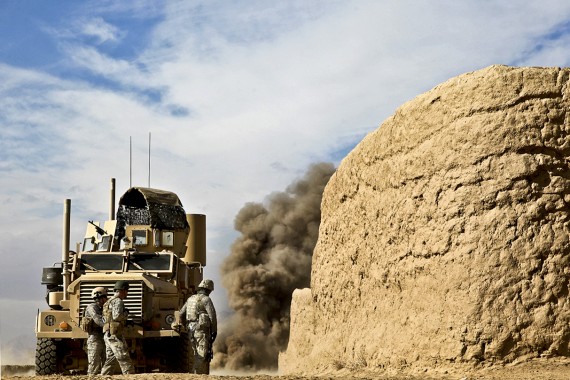 U.S. Air Force Tech. Sgt. Matthew Rigsby and Air Force Staff Sgts. Devlin Long and Scott Underdoll detonate a controlled disposal of an improvised explosive device near Espandi, Afghanistan, Jan. 10, 2011. Rigsby, Long and Underoll, all explosive ordnance disposal technicians, are assigned to Forward Operating Base Ghazni.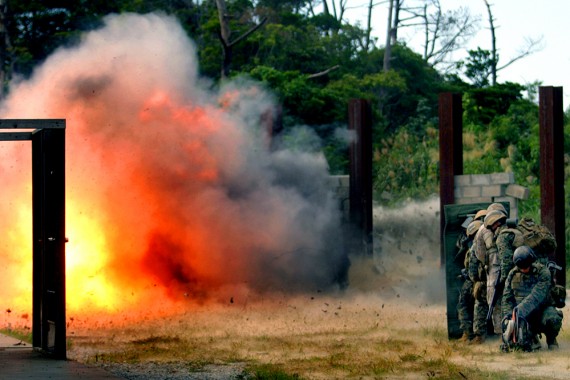 U.S. Marines, Reconnaissance and Explosive Ordnance Disposal, take cover from a blast during the Dynamic Entry course on Camp Hansen, Okinawa, Oct. 29, 2008. The 10-day course is held semi-annually, by the III Marine Expeditionary Forces Special Operations Training Group to teach Marines how to breach buildings, through various techniques.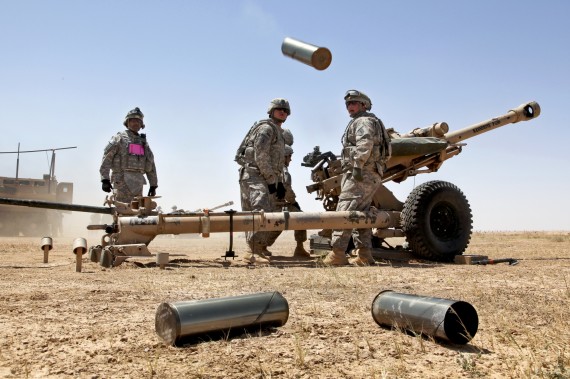 U.S. Army Pfc. Mark Ayers stands ready to dispose of spent brass during a artillery live fire qualification range on Memorial Range, Contingency Operating Base Speicher, Iraq, May 21, 2010. Ayers is assigned to Alpha Battery, 2nd Battalion, 32nd Field Artillery. The soldiers are required to conduct range qualification to keep the fire team's accuracy and timing at its best.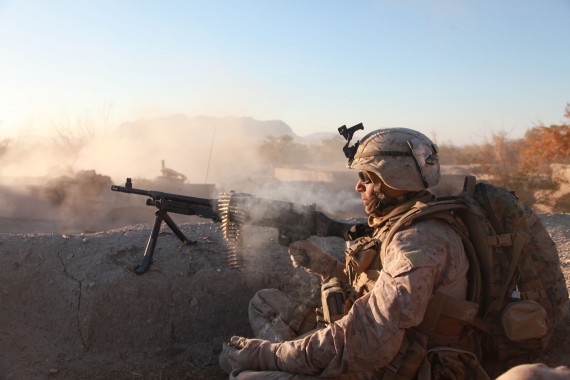 A U.S. Marine with Lima Company, 3rd Battalion, 4th Marine Regiment provides support by fire during Operation Cobra's Anger in Now Zad, Afghanistan, on Dec. 5, 2009. The Marines are clearing buildings occupied by insurgents.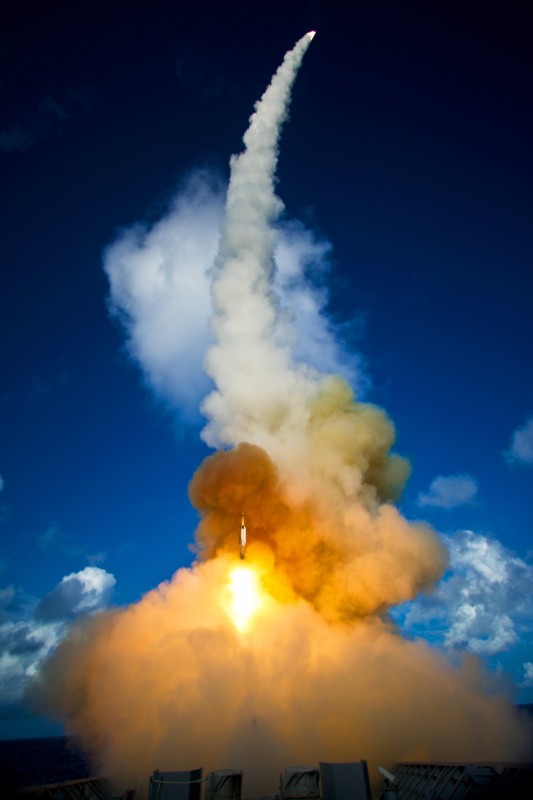 The U.S. Navy launches two modified Standard Missile-2 Block IV interceptors from the guided-missile cruiser USS Lake Erie during a Missile Defense Agency test to intercept a short-range ballistic missile target, June 5, 2008. The missiles intercepted the target approximately 12 miles above the Pacific Ocean 100 miles west of Kauai, Hawaii, on the Pacific Missile Range Facility.

U.S. Marine Corps Sgt. Ryan Pettit (left) and Cpl. Matthew Miller with 2nd Battalion, 8th Marine Regiment fire their service rifles during an operation in the Helmand province of Afghanistan on July 3, 2009. The Marines are part of the ground combat element of Regiment Combat Team 3, 2nd Marine Expeditionary Brigade.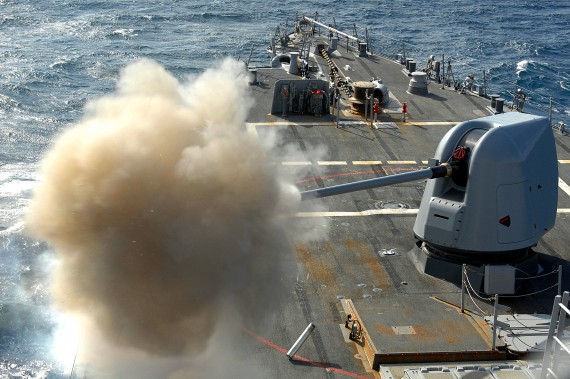 The guided-missile destroyer USS Mitscher fires its MK-45 5-inch/54-caliber lightweight gun during a gun exercise in the Atlantic Ocean, Jan. 22, 2011. Mitscher is conducting a composite training unit exercise as part of the George H.W. Bush Carrier Strike Group to prepare for an upcoming combat deployment.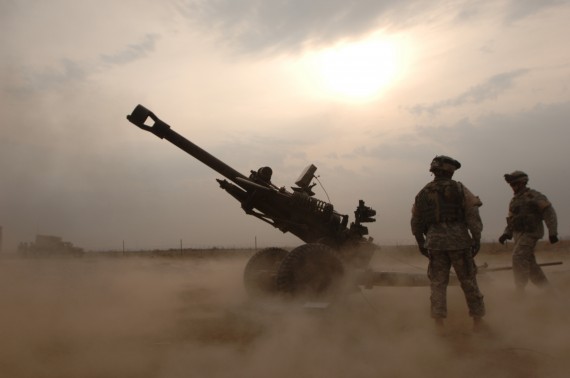 U.S. Army soldiers from Alpha Company, 3rd Battalion, 6th Field Artillery train on firing points with an M119 Howitzer outside Camp Liberty in Iraq on Dec. 23, 2005.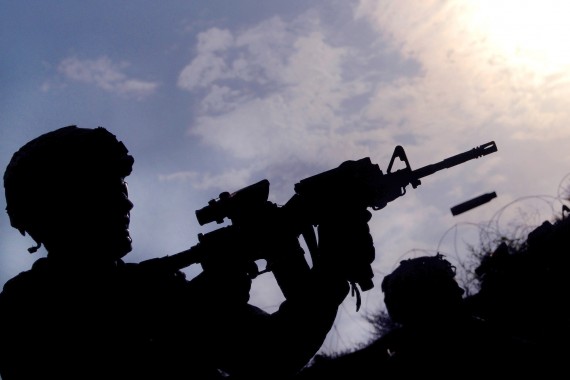 U.S. Army Pvt. Adam Eggers shoots his M4 rifle at a live-fire range on Camp Blessing in Kunar province, Afghanistan, July 27, 2009. Eggers is assigned to the 4th Infantry Division's Company A, 2nd Battalion, 12th Infantry Regiment, 4th Brigade.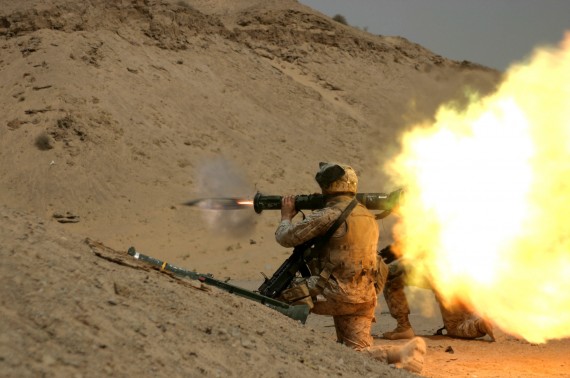 Marine Lance Cpl. Gary R. Nichols fires an AT-4 light anti-armor weapon at an old tank during fire and maneuver training near Camp Bucca, Iraq, on July 18, 2005. Nichols and his fellow Marines of the 26th Marine Expeditionary Unit (Special Operations Capable) are operating out of Camp Bucca to conduct various force protection missions.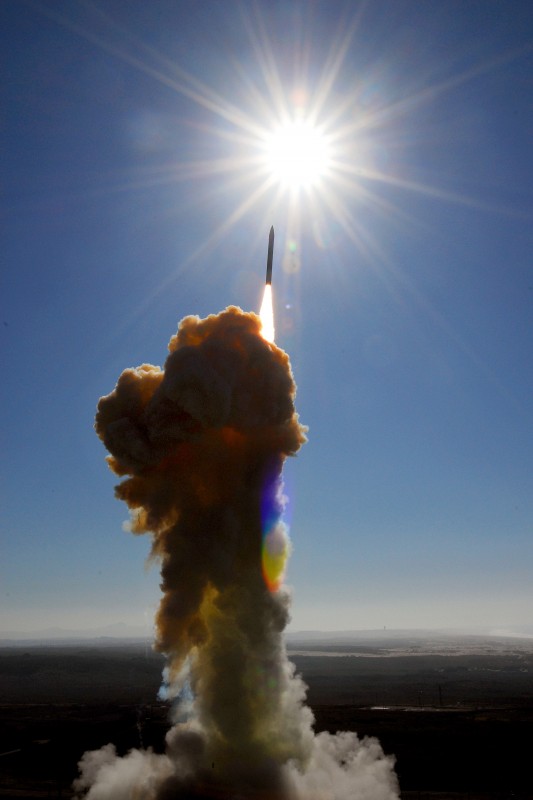 A ground-based interceptor lifts off from Vandenberg Air Force Base, Calif., Dec. 5, 2008. The launch is a test of the Ballistic Missile Defense System, which successfully intercepted a long-range target launched from Kodiak, Alaska.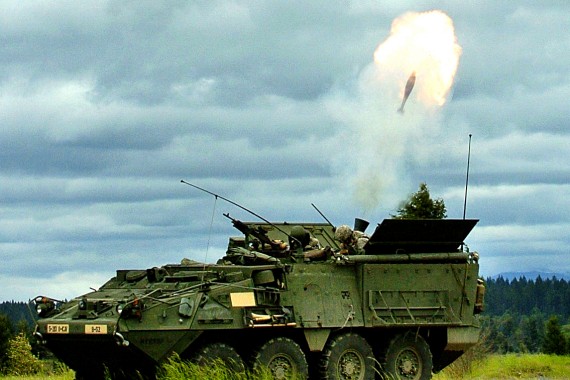 U.S. soldiers fire 120mm mortars from their Stryker MCV-B during crew certification at Fort Lewis, Wash., May 30, 2008. The soldiers are assigned to 8th Squadron, 1st Cavalry Regiment.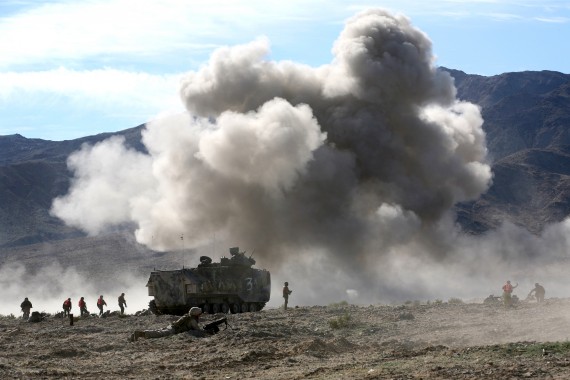 U.S. Marines from 2nd Battalion, 8th Marine Regiment deploy an MK-154 Mine Clearing Line Charge system during assault training at Marine Corps Air Ground Combat Center, Twentynine Palms, Calif., Jan. 18, 2009.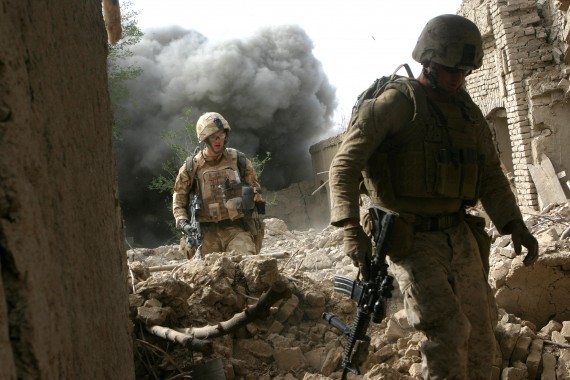 U.S. Marine Corps Cpl. Kyle Page, right, and an Estonian Defense Forces member make their way over rubble as a controlled detonation explodes behind them during a clearing operation in Northern Now Zad, Afghanistan, Oct. 26, 2008. Page is a team leader with 3rd Combat Engineer Battalion, attached to Fox Company, 2nd Battalion, 7th Marine Regiment.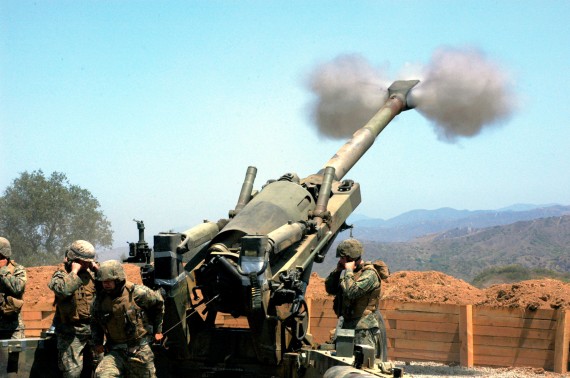 Smoke spews from the muzzle of an M-198 howitzer as a projectile is launched down Artillery Firing Area 8 at Camp Pendleton, Calif, July 7, 2005. With the reality of guerrilla warfare in Iraq, Marines from Bravo Battery, 1st Battalion, 11th Marine Regiment, broke in the new firing base tailored to what they'll face in Iraq.
Sources
Photographs and descriptions: U.S. Department of Defense.