Yesterday Jacob and Rachel were married in the Bountiful Temple. For those not familiar with Mormon weddings, I will explain. Members of the Church believe that marriages performed in temples are "sealed," or blessed to last for eternity. Those who are sealed in the temple have the assurance that their relationship will continue forever if they are true to their covenants. They know that nothing, not even death, can permanently separate them.
Bind On Earth
The concept of eternal families comes from scripture and modern-day revelation. For instance, the New Testament reference in Matthew 16:19 records Jesus Christ telling the Apostle Peter: "And I will give unto thee the keys of the kingdom of heaven: and whatsoever thou shalt bind on earth shall be bound in heaven: and whatsoever thou shalt loose on earth shall be loosed in heaven." The Church equates the word "bind" with "seal."
In "The Family: A Proclamation to the World," the First Presidency and Quorum of the Twelve Apostles proclaim that "marriage between a man and a woman is ordained of God and that the family is central to the Creator's plan for the eternal destiny of His children." When a man and woman are married in the temple, their family can be together forever.
Photographs
After the sealing ceremony, Jake and Rachel changed into traditional marriage clothes for photographs in the temple grounds. Family and friends, after witnessing the sealing, waited patiently for them outside the temple doors. Here are a few photographs, mostly via my camera. Click on the images to enlarge.
Reception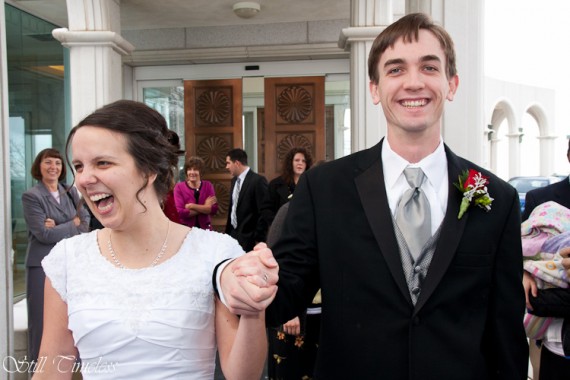 Here are some more photographs, courtesy Still Timeless Photography, of the Wedding of Jacob and Rachel.