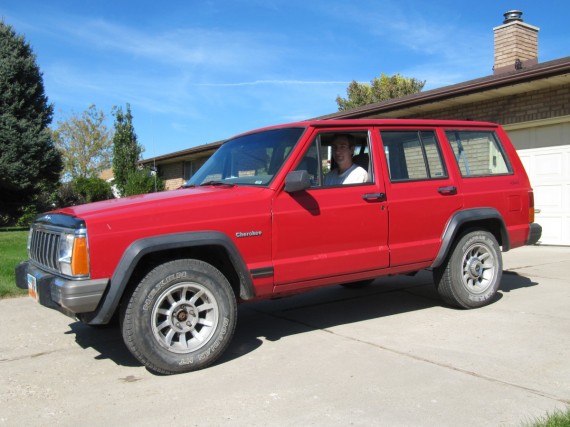 Paul decided it was time he took up four wheeling so he bought a 1993 Jeep Cherokee. There was one problem — there always is: when Paul tried to shift into 4-wheel drive there was "a grinding and crunching noise," as Paul described it, coming from the transfer case. This newly acquired 4-wheel drive vehicle would not go into 4-wheel drive.
Paul inspected the transfer case and found that the drive chain was loose. If you click on the photograph of the chains side by side, you will see that the old chain has stretched a good 3/8 inch longer than the new chain. Once the replacement chain was installed Paul had a 4-wheel drive Jeep that could actually drive four wheels.
There were a few minor issues like replacing the 90% water antifreeze with a 30% water mix, fixing the blower motor, and two new window winder handles.
Of course a quick test was in order so we headed to the mountains to check Paul's repair work. It looks like he is good to go, judging from this superb video I filmed. Click here if you cannot see the video.

I took several photographs with the sun low in the sky which gave the Cherokee a definitely uncool pinkish color look.