Having already seen The 39 Steps and Much Ado about Nothing, we were looking forward to Pride and Prejudice to finish our two days at the Utah Shakespearean Festival. Pride and Prejudice is a novel by Jane Austen. It was begun in 1796, her second novel, but her first serious attempt at publication. She finished the original manuscript by 1797 in Steventon, Hampshire, where she lived with her parents and siblings in the town rectory. Austen originally called the story First Impressions, but it was never published under that title; instead, she made extensive revisions to the manuscript, then retitled and eventually published it as Pride and Prejudice.
The play is adapted by Joseph Hanreddy and J. R. Sullivan and directed by B. J. Jones. The Utah Shakespearean Festival website has this to say:
Mr. and Mrs. Bennet are desperate. With no sons, they are determined to arrange profitable marriages for their five beautiful daughters. However, when two eligible young men arrive in the neighborhood, excitement and passion begin to rule; and the Bennet household is in danger of being tipped firmly on its end. Fully capturing the spirit of the classic book, this adaptation is delightful, romantic, and fun for the entire family.
My wife owns the notable 1995 television version produced by the BBC starring Jennifer Ehle and Colin Firth. Also the 2005 movie starring Keira Knightley (in an Oscar-nominated performance) and Matthew Macfadyen. She also has the book. So it was destined that she would see the play.
For me, already knowing the plot and the ending, didn't spoil the play. The interest now is not in what happens but how the story is told. It seemed to me that all the story was covered — I did not notice anything that was left out. But I do not think I would catch omissions anyway as I have not read the book.
Wikipedia has an interesting Pride and Prejudice Character Map showing the relationships between characters.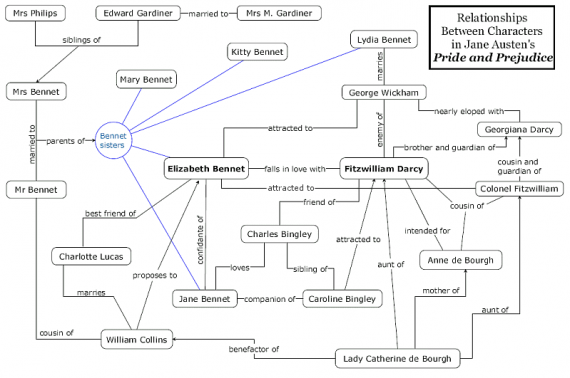 Next: The Greenshow