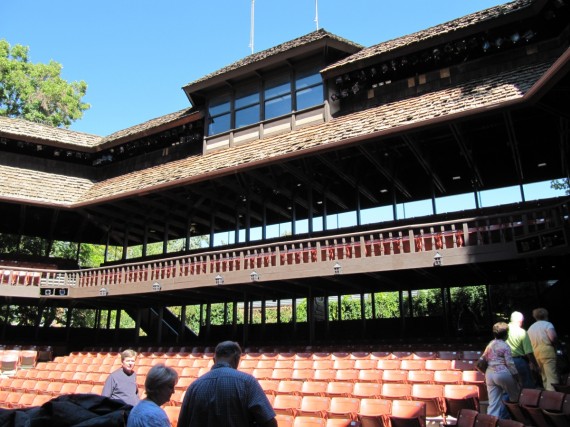 So far I have written about The 39 Steps, Much Ado about Nothing, Pride and Prejudice, The Greenshow and the Randall Theatre Backstage Tour. The Adams Shakespearean Theatre Backstage Tour is just a continuation of the Randall Theatre Backstage Tour. The whole tour takes 90 minutes.
The Festival website states:
The Adams Shakespearean Theatre, dedicated in 1977, was designed by Douglas N. Cook, Festival producing artistic director, along with Max Anderson of the Utah State Building Board, and is patterned after drawings and research of sixteenth century Tudor stages. Experts say it is one of a few theatres that probably comes close to the design of the Globe Theatre in which Shakespeare's plays were originally produced. It is so authentic, in fact, that the British Broadcasting Company filmed part of its Shakespeare series there. It is named for Grace Adams Tanner, a major benefactor of the Festival, and her parents, Thomas D. and Luella R. Adams. It seats 819, plus 66 gallery-bench or standing-room seats.
I took a few more photographs on this last leg of the tour. Backstage there is less room and little storage space compared with the Randall Theatre. There are plans for the New Shakespeare Theatre with a goal of completing the fundraising campaign in time to celebrate the Festival's fiftieth anniversary season in 2011.
The new theatre, including the lobby, will be enclosed in a glass "shell" with a retractable roof to bring the outdoors into the theatre. I have included a photograph of a scale model of the theatre below.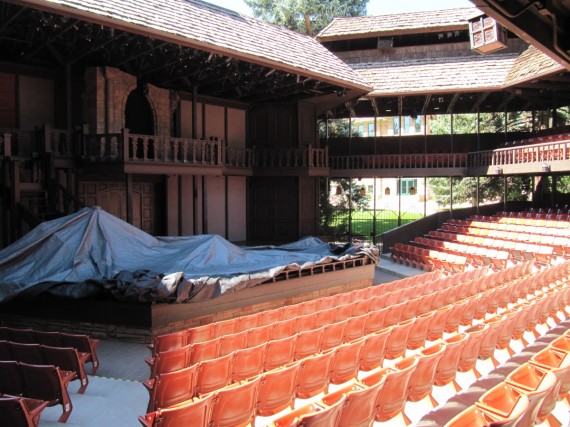 Next: Cedar Breaks National Monument