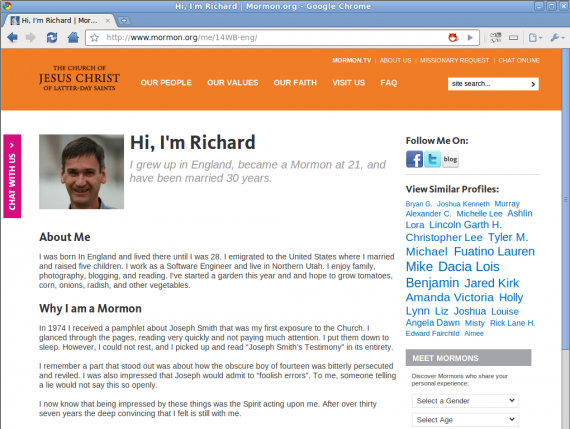 I wrote recently about the new Mormon.org and the inclusion of 1,000 profiles of Mormons. Each profile is a collection of stories and testimonies from Mormons. Profiles of members just like you and me. In my case it turns out that I do indeed have my profile for all to see in the "Meet Mormons" section. I looked through many of the profiles to see if I recognized anyone but they were all strangers to me.
My profile was not edited in any way and I was permitted to place a link to my blog and Facebook page with my profile.
The Mormon.org site is meant to introduce the Church to the world. Questions are answered, accurate information is given, and the opportunity is provided to learn more. The "Our People" page introduces its readers to Mormons who tell their own stories about how the Gospel of Jesus Christ has blessed their lives. "Our Values" highlights some of the cultural priorities of Mormons, such as strong families, service and good citizenship. Core doctrines that underpin Mormons beliefs are in the "Our Faith" section.
What do you think about having personal stories about your faith online? Do you have your profile on Mormon.org? If so, post the link so we can read your story.
Update
It turns out that there is one person I know on Meet Mormons: Marc Lee