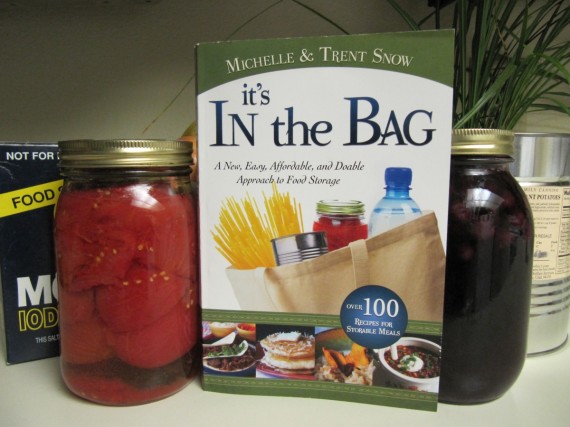 I purchased a useful little book last week called It's In the Bag by Michelle and Trent Snow. Michelle is affectionately called "The Bag Lady" because of her Bag Meal System. The book is well laid out with easy to follow instructions. Over a hundred recipes extend its usefulness for as long as you need to store food.
The system is simple. I put everything I need for a meal in a bag. As I read through the first chapter it really does turn out to be simple — even a man could do it. Michelle guided me through 12 advantages of Bag Meals from "having organized meals ready" to "an easy way to rotate my food storage." There are photographs too for the folks that never read the instructions but want to get moving.
The bulk of the book is taken up with bags of recipes — or perhaps recipes for bags? Now in my home I hardly ever cook and when I do it is beans on toast (now that wouldn't need a very big bag). But a lot of these Bag Meal recipes look so easy to do that I might consider branching out and rustle up some Pinto Beans (page 68) or Spicy Chicken and Navy Bean Soup (page 79) or perhaps a Beefy Bean Casserole (page 58). But the really must try meal is Uglier than Heck Soup (page 78).
There are some other useful sections in the book. One that took my interest is Trent's Sprouting Methods. I have yet to try what he says but I at least I have my bookmark in place.
According to the cover, It's In the Bag will have you storing what eat and eating what you store. After reading the book I would have to agree with the cover, the Bag Meal System is simple and realistic.
For more information, see The Bag Lady's blogs: Michelle Snow and Welcome To The Food Storage Revolution!
Full disclosure: I purchased the book and was not paid for this review. The Trents are neighbors.