Presented here are portions of Elder Daniel Willoughby's twenty fifth email from the Mongolia Ulaanbaatar Mission. If anyone wishes to send Daniel a message, write it in the comments and I will make sure he receives it.
Hello From Rainy Mongolia
Wow! Sarah has a neat hair cut. Everyone looks way happy and well. Bryson is getting really big. It sounds like Bear Lake was lots of fun as well.
Rainstorm
This week was quite an adventure. There was a huge rainstorm on Tuesday that flooded all the streets etc. We were teaching a lesson and the rain on the roof was so loud that we had to stop teaching for about 30 minutes. Luckily the bishop came with us to do work that day so we were able to escape getting soaked by the rain by riding in his car. The damage wasn't too bad to the area and it is mostly back to normal now. I really like the picture I snapped of the fat man standing majestically in front of the flooded parking lot.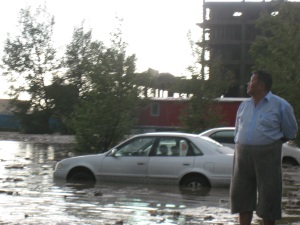 A Flood in Mongolia.
Missionary Work
I made a funny mistake when I called one of our investigators. When you call people you usually say, "Did you sleep well?" or "How did you sleep?" I accidentally added one letter and asked him, "Did you have a nice life?" We had a good laugh over that. Our investigator didn't seem to notice that's what I said. One of our members brought a nonmember friend to church. That is probably one of the best things members can do for missionaries. It was fun to meet her and talk to her. Missionary work continues on. I know it is Heavenly Father's work and He really loves and helps all of His children.
To Melissa
I'm not sure I have many suggestions. Studying all the time was hard and made my head hurt but after awhile I got used to it. Steven, Jake, and Paul will know better suggestions for the language. I think it somewhat links to English so you can learn it by association with English words. There are some cool bikes to ride up on the third floor of the gym [of the MTC]. Oh and the far right part of the cafeteria has left-overs from previous meals. (That took me a long time to find :) ). Tell him to work hard and just keep going. He is doing great!
To Jason
Hey Jason! I'm doing great thanks for the comment. No I haven't served in Darhan but if I do I'll say "Hi" to your companions. That is way awesome that you had Mongolian companions that were brothers even. It would be way cool to meet them and tell them that I know you. Thanks again!
Love, Elder Willoughby
Related Articles
List of Daniel's missionary posts.