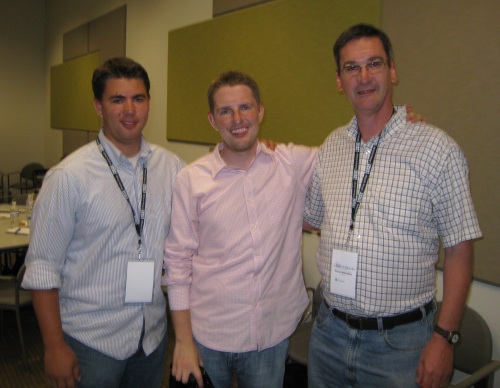 WordCamp Utah
Today I attended WordCamp Utah 2008. I would have felt a little rickety going by myself so I asked my son-in-law Derek to come along. Rather than report what was said at WordCamp I will tell you my impressions. I will provide links to blogs that reported on the speakers.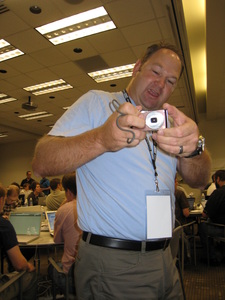 I didn't know what to expect as this was my first time at a blog gathering. As I stood in line to register I felt a little out of place because everyone else had brought their laptops. We all tend to notice the financial aspects of attending events and in this I am like all of you. The cost was $20 which is a small sum for an all day event. But that bought lunch, a WordCamp tee shirt, a snack, and all the bottled water you cared to drink. I'm used to having to pay exorbitant prices for food at the events I attend, for example the movies. I'd better mention the free stickers though they didn't do anything for me. The free Bluehost tee shirt was cool though.
Speakers
There were about 200 people attending. The speakers were interesting and kept to their topic. One of the co-founders of WordPress, Matt Mullenweg, was the keynote speaker. I tracked him down later in the day and got his photograph that you see above.
The next speaker was Richard K. Miller from the More Good Foundation. He did especially well in interacting with the audience. I have communicated with Richard by email on various topics, mostly in conjunction with MormonWiki.com to which I have contributed several articles. Last year he invited me to be an administrator on the site which turned out to be a fun assignment, especially when vandals decided to attack late one night. I caught up with Richard and got my photograph taken with him which is at the end of this article.
Summary
Our fellow bloggers were friendly and listened attentively to the presentations. We didn't stay to listen to the last speaker but I think all the presenters did very well to keep our attention all day. The building was comfortable and I was told that the bandwidth was huge, which I would have known all by myself if I hadn't have left my laptop at home. I would definitely recommend that if you have the opportunity to go to a WordCamp that you do so. But don't forget your laptop.
Links
Using WordPress as a CMS (also see related articles links).
SEO Tips Ash Buckles (also see his other posts).
UStream TV
Laura Moncur WordCamp Photos
WordCamp Utah Highlights