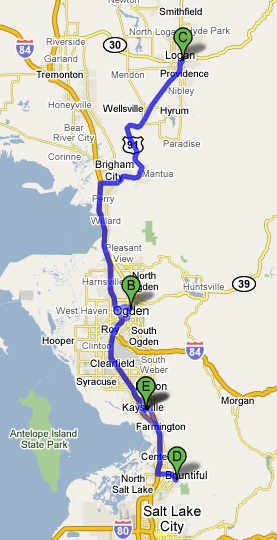 First Day
Before I begin I will mention that we won't be traveling in any of the rickety old cars you see on this page. The first day we get to sleep in our own beds. We start and end in Kaysville. This will work for those of you who just want a day trip. We drive north 18 miles to take in a session at the Ogden Temple. North again for 47 miles to the Logan Temple. Then it is back south for 76 miles to the Bountiful Temple. Back home with a drive of 14 miles. That adds to a total of three sessions and 155 miles. The drive time is approximately 3 hours and 17 minutes.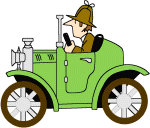 Second Day
We start off in Kaysville driving 20 miles to get an early session at the Salt Lake Temple. Another 20 miles takes us to the Jordan River Temple. In the same city is the site of the Oquirrh Mountains Temple just 3 miles away. Just a 13 mile drive takes us to the site of the Draper Temple. South for 14 miles delivers us to the Mount Timpanogos Temple. After we are finished at Mount Timpanogos it is a leisurely drive to the Provo Marriott where we will stay the night. For the day the total miles is 85 taking about 2 hours 23 minutes. Three sessions will have be completed and a look at two temples under construction.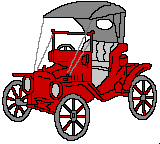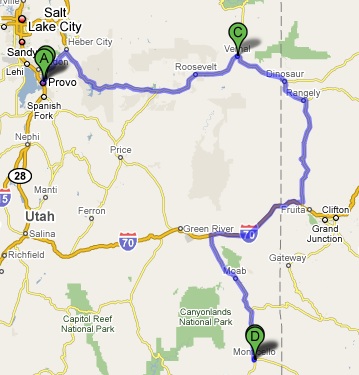 Third Day
You could walk the three miles from the Marriott to the Provo Temple for the first session of the day. After a session we go east 153 miles to the Vernal Temple. We are not done yet as we drive the 272 miles to the Monticello Temple. Once the session is complete we stay over at the Days Inn just a mile away. Total for the day is three sessions and 429 miles that will take 8 hours and 3 minutes.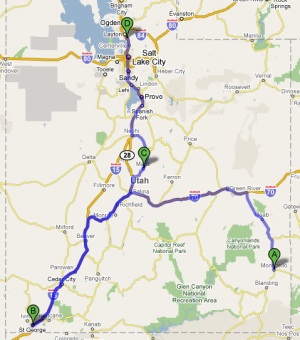 Fourth Day
We are in for a lot of driving today to pick up the last two temples. The St. George Temple is 392 miles away so we start early. You can take a nap on the way but no snoring. After St. George our last stop is the Manti Temple for a drive of 213 miles. Soon we can head home with 143 miles before us. This leg would add two more sessions and 749 miles. Total driving time for today would add up to 11 hours 32 minutes.


When?
Two people who have signed up are attending the University of Utah. So it looks like we will go sometime during Fall break (Monday 13th October to Sunday 19th October). The four days will be 13th to 16th of that week. An alternative would be to do day 1 on Saturday 11th and days 2, 3, and 4 on 13th, 14th, and 15th. Or we can come up with another date. Incidentally the times for each day is the drive times only. I would allow 2 1/2 hours for each temple visit. 90 minutes for the session and another hour for changing and wait times and outside photography. Jake reminded me that we would need time to eat. It will be good to have one or two hungry RMs along!
Related Posts
Utah Temples Tour