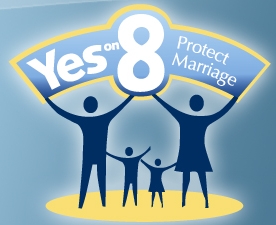 Protect Marriage Pastor Calls
This morning approximately 2,500 pastors and church leaders gathered at 170 sites in California to participate in a Protect Marriage conference call/Webinar. On the call, pastors and church leaders of all denominations received information and resources to be used in garnering YES on Proposition 8 support from their communities and congregations.
Supporters of Same-Sex Marriage Ad
Backers of same-sex "marriage" have begun airing a new television ad. The Let Freedom Ring ad, which is now airing in California, doesn't make direct mention of Prop. 8, nevertheless, its intent is clear — to encourage tolerance of same-sex marriage.
Prop. 8 Volunteers Visit More Than One Million Voter Households
Approximately 50,000 Prop. 8 volunteers took to their neighborhoods on Aug. 16 and 23 to encourage their friends and neighbors to vote YES on Proposition 8. By devoting just a few hours of their time, volunteers have reached more than one million households up and down the state in two days.
Advocates of Same-Sex Marriage Continue to Force Compliance
The Proposition 8 Campaign reacted strongly to the California Supreme Court's ruling that California doctors who have religious objections to artificially inseminating same-sex couples can no longer refuse to treat them. The Court's decision overturns a previous state Appeals Court decision which ruled in favor of the doctors in 2005.
This latest ruling proves that advocates of same-sex marriage are not simply seeking tolerance, but rather are pushing for compliance in every corner of California society. They will stop at nothing to chip away at the free speech rights and the rights of conscience of Californians everywhere, forcing individuals to accept their lifestyle even against a person's personal or religious beliefs. It is a slippery slope against the individual rights of Californians.
Ron Prentice, on behalf of the Campaign.
The Supreme Court rejected a San Diego County fertility clinic's right to refuse performing a procedure. North Coast Women's Care in Vista declined to perform an intrauterine insemination for an individual, and referred the individual to another facility.
Knights of Columbus Catholic Organization
Just this last week, the Knights of Columbus, the world's largest Catholic family fraternal service organization, donated $1 million to Proposition 8. Throughout its history, the Knights of Columbus has been an effective advocate and defender of civil and religious rights for all.
Knights of Columbus spokesman Patrick Korten stressed that the importance of, "preserving marriage as the indispensable institution in which children are conceived, born and raised to adulthood by a loving father and mother is vital to a healthy society. It is also the most favorable environment in which to protect the rights and best interests of children."
Additional Information
Information for this post came from a Protect Marriage campaign update. For more information see Protect Marriage.