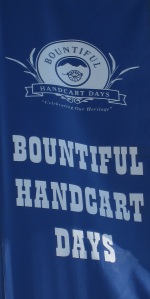 July 24th is Pioneer Day in Utah and a state holiday but for me it is work as usual. Yesterday I was musing about what to post for the 24th when my wife Jill asked me if I wanted to go to the Bountiful Parade. I said, "sure!" There is one thing about blogging and that is it gets you out of the house.
There were a lot of marching bands in the parade and of course the biggest and best is the Davis High School Band led by instructor Mr. Hendricks. There were the usual cars and even though some were old there were none that were rickety. The governor and his wife were in the parade as well as Rob Bishop in a car that could barely hold him. Byron, my nephew, was playing his trumpet on the Jazz Band float, watch out below for the handsome chap with red hair. There were the beauty queens and horse drawn carriages which looked like they got around fifteen miles per hay bale. Emergency vehicles were bountiful in the parade which had me thinking who was going to respond to an actually emergency? No worries about that as most of Bountiful was at the parade anyway.
Bountiful Handcart Days start at 6pm on the 23rd July. It is quite lengthy at over a hundred entries. The parade route was packed and we had to take the sunny side of the road. I wanted to stay with my family so I was taking pictures into the sun. That seemed to interfere a little with the focusing of the camera. However, I was able to get some shade with the beach umbrella the Wards had erected. That is me in the photograph.

I am going to let the photographs speak for themselves. First up are the family that save us a place, bring water, and always manage to find some high quality shade. And don't forget to save
me
a place at the next parade!
There were many floats, led by the sheriff and the National Guard, and followed with the martial arts. Click on the photographs below for a larger image.

Related Websites
Handcart Days Channel — See the video of the 2008 and 2009 parades.
2010 Handcart Days Website — Events, media, volunteers, sponsors, and blog.
2010 Handcart Days on Facebook — Become a fan.