It is time for the 4th July parades to begin. Today at 9am found Jill, Sarah, and I at West Bountiful.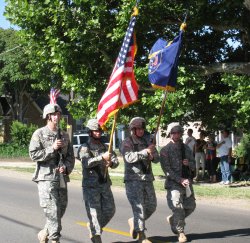 Kent and Susan had saved seats for us. From left to right in the photograph below are Rick (me), Kent, Jill, Sarah, Shauna, Mark, Connie, and Susan. Shauna had brought candy just in case we didn't like the parade offerings. There was also water but it wasn't needed as I think we had the coolest spot on the parade route.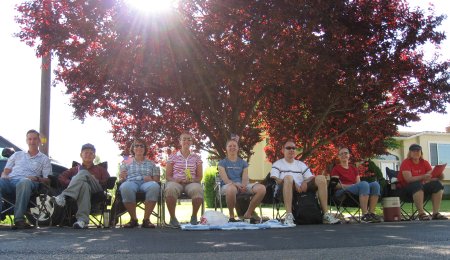 The National Guard carried the flag followed by Mayor James Behunin on a horse. Val Verda Stake, where Jill and I used to live, had a pioneer themed float. There were the usual bands, fire engines, and old cars. There were even Star Wars characters entertaining the crowd. With fifty entries the parade was over in less than an hour which is about the right amount of time for me.