This is part one of a ten part series chronicling Paul's Mission. It is told mostly in his own words using excerpts from his letters and photographs sent home.
Paul
Paul is an Eagle Scout and an active member of his church since birth. He earned a full tuition scholarship to the University of Utah and completed a year of schooling before leaving for the Missionary Training Center (MTC) in June 2004. He returned to the university after his mission and is majoring in Computer Engineering.
Mission
California Oakland Mission Alumni
Paul served in the California Oakland (Spanish speaking) Mission June 2004 to June 2006. He worked to save the entire $9,000 needed for his mission, and also purchased with his own money the necessary attire. Here are a few excerpts from correspondence to our family, in his own words.
June 2004
At the MTC.
July 2004
At the MTC.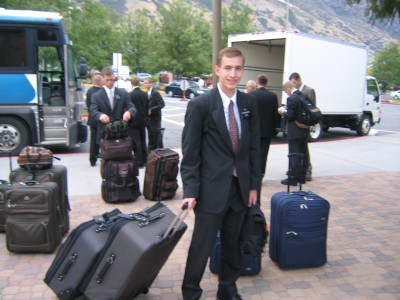 Hola Daniel,
Tell Jake to help Jake C study for his mission. Have him take one of those gray Missionary Gospel Study Program booklets to Jake C and to write me to tell me whether he did those things he was going to do for me. Make it happen, thanks Daniel. I got all three of the postcards, sounds like your trip was fun. Tell Mom to ask them about my suit, and tell Sarah I'll get a reply for her letter one of these days. The zip ties are what make the T-Maxx go, good idea. When I get back I will teach you Spanish. How is your new room? I am having a good time here, I like being a missionary. Remember to pay attention during seminary and you will know how to answer people's questions about the church. Tell the family that I'll try to write this week too,
Elder Willoughby