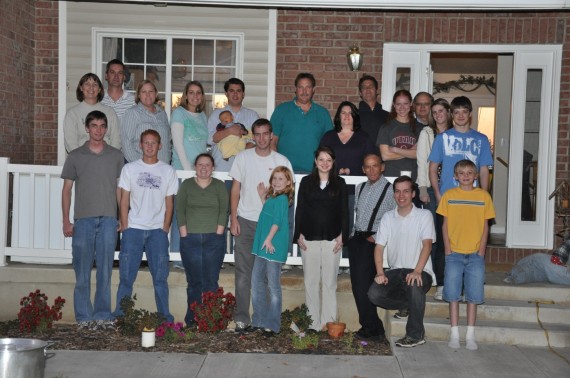 Back row, left to right: Jill, Rick, Susan, Sarah, Derek holding Bryson, Randy, Sherie, Scott, Shauna, Kent, Alex, and Ty.
Front row, left to right: Jake, Byron, Melissa, Paul, Ashley, Adelaide, Robert, Steven, Connor.
Thanksgiving this year was at my brother-in-law Randy's home in Perry, Utah. Steven brought an extra turkey to fry. He heated the peanut oil to 350 degrees. When the breast of the turkey reached 170 degrees it was done. It was cooked perfectly. Last year it was burnt. After we had all eaten our fill we went outside to have a group photograph with Adelaide's new Nikon D90.
Later in the evening I blogged while some of the family played the game "Would You Rather…?" which I am glad I didn't play. Ashley commented for the first time on a blog (mine). Others watched the Cars movie. Steven and Paul tinkered with Adelaide's camera. And then it was time to gobble up some pie.