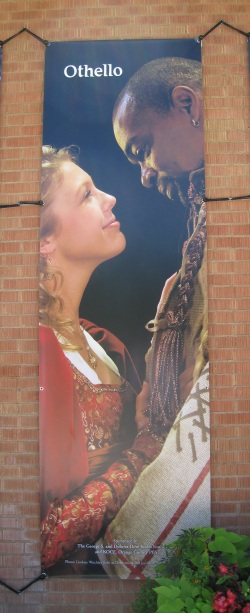 Previously we attended Cyrano de Bergerac and The Two Gentleman of Verona.
The Play
Our last play at the festival is William Shakespeare's Othello. The play is a tragedy based on the short story Moor of Venice by Cinthio, written around 1603. The work revolves around four central characters: Othello (Jonathan Earl Peck), his wife Desdemona (Lindsey Wochley), his lieutenant Cassio (Justin Matthew Gordon), and his trusted advisor Iago (James Newcomb). Desdemona is secretly married to the black general Othello, which upsets Roderigo, a rich gentleman. Iago is upset with Othello for promoting the younger Cassio over him. When Roderigo tells Desdemona's father, Brabantio, that she is married, Brabantio is upset with Othello. And so it goes until it reaches a tragic climax. Because of its varied themes — racism, love, jealousy and betrayal — the play remains relevant to the present day.
The Actors
Jonathan Earl Peck has played on Broadway in A Lion in Winter; Abduction from the Seraglio; and The Color of Justice. Off Broadway Shakespearean roles have been Julius Caesar; The Merchant of Venice; Othello; Richard III; A Midsummer Night's Dream; and Hamlet. In television and film he has played in Cadillac Records; Law and Order; The West Wing; The Devil's Own; American Deams; Here and Now; One Life to Live; Loving; Freedom Road; King; Devil Girl; and Someone Else's America.
Lindsey Wochley has played in A Christmas Carol as Belle and The Merry Wives of Windsor as Anne Page. Her Hartt School productions include Measure for Measure (Isabella), Pericles (Marina), Hay Fever (Sorel), Three Sisters (Natalya), Picnic (Madge), The Laramie Project (Romaine Patterson), Scapin (Nerine), and the world premieres of Film Noir (Jessica) and Deflowering Waldo (Sissy).
Justin Matthew Gordon has appeared previously at the Festival in Coriolanus, Lend Me a Tenor: The Musical. His Shakespearean roles in other theaters have been in Twelfth Night; Richard II; Richard III; A Midsummer Night's Dream; and Hamlet. He has appeared in We Were Soldiers and What's Bugging Seth.
James Newcomb has appeared previously at the Festival in Coriolanus and King Lear. In other theaters his Shakespearean roles include Richard III, Oberon, Puck, Bolingbroke, Laertes, Touchstone, Feste, Dogberry, Benedick, Romeo, Grumio, Tranio, Cabiban, and Thersites.
The Theater
The Adams Shakespearean Theatre is patterned after drawings and research of sixteenth century Tudor stages. Experts say it is one of a few theaters that probably comes close to the design of the Globe Theatre in which Shakespeare's plays were originally produced. It is so authentic that the British Broadcasting Company filmed part of its Shakespeare series there.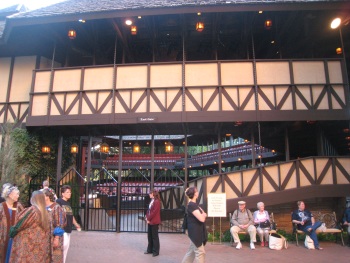 It is named for Grace Adams Tanner, a major benefactor of the Festival, and her parents, Thomas D. and Luella R. Adams. It seats 819, plus 66 gallery-bench or standing-room seats. I was told by theater staff that when the new theater is opened this old theater will be torn down. It would be too costly to retrofit a movable roof that can be opened and closed depending on the weather.
Back Home
We had not seen Othello before and for us it dragged a little during the first half. It livened up after the intermission and though the ending was tragic there was a lot to ponder about why it had to be that way. It seems that one person with a lot of lies can really deceive a great many people. I noticed in the plays we attended that there were several empty seats. I wonder if ticket sales are down slightly. Anyway, we enjoyed the show.
Jill and I visited some other interesting places on our trip to southern Utah and I will probably be blogging about those shortly.