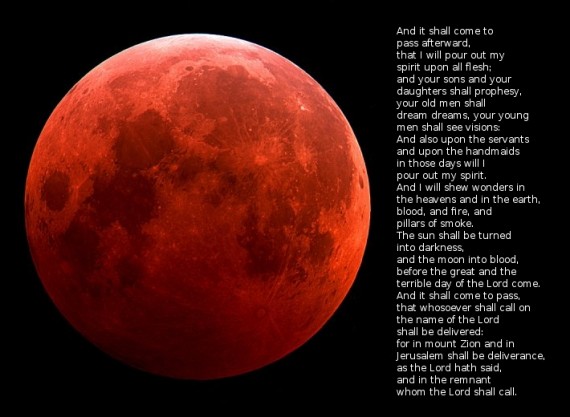 Click on the image to sharpen the text.
In the October 2001 General Conference President Hinckley said: "The vision of Joel has been fulfilled wherein he declared…" Then he quoted Joel 2:28-32. I've looked upon the scripture to mean that certain events will happen before the Lord's second coming. We can extract from the scripture Joel's partial list:
The Lord will pour out His spirit upon all flesh (including servants and handmaids)
Your sons and your daughters shall prophesy
Your old men shall dream dreams
Your young men shall see visions
Wonders in the heavens and in the earth (blood, fire, pillars of smoke)
Sun shall be turned into darkness
Moon turned into blood
Of course there are more items we can add to the list as we search through the scriptures. But what is the most important thing to remember in all of this? "That whosoever shall call on the name of the Lord shall be delivered." It seems to me to be that simple. One may ask, "Will not the wicked therefore call upon the Lord?" I don't think so. The wicked are not even watching the signs of His coming. Even when brought to the awful realization of their situation they will lift up their voices and curse God and die.
Others have written about President Hinckley's declaration, see The 100 Hour Board, the comments in Connor's Conundrums, and Latter-day Commentary.
Photo Credit: NASA