Last week our family received an email from Sister Jill Andersen, the wife of the Mongolia Mission President. She sent some information to help Daniel prepare for his mission, as well as a map of Mongolia. The information that Sister Andersen sends to the missionary families isn't in her own words. It started out as something that was used by the previous mission president and has had a lot of editing and updating done by her. She has no idea who first wrote it or how long ago it was written. It may have predated their predecessors. Regardless, family and friends will probably be interested in the contents.
Ulaanbaatar
Ulaanbaatar is an interesting city with varied and unusual architecture. The countryside is some of the most beautiful in the world. This land is very special. You will love it all, especially the people. They are sincere, kind and are so ready to receive the blessings of the Gospel in their lives.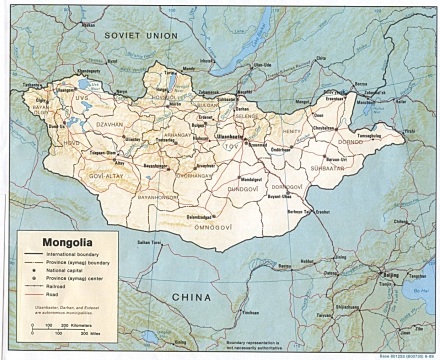 Missionary Work
Mongolia is relatively new to organized missionary work. The first missionaries actually began their service in September of 1992, prior to Elder Neal A. Maxwell's dedication of the land to missionary work in 1993. There are now nearly 8,000 members in Mongolia with two districts and 20 branches. This is likely one of the more challenging missions in the world. That is why we believe that some of the very best and most qualified missionaries come to serve here. Missionaries are only allowed in Mongolia under the direction of Deseret International Charities, a foundation directed towards teaching English in schools, businesses and government offices. All missionaries are required to teach English 12 hours per week. One cannot mention the Church while teaching English, but if people ask about it outside the classroom, the missionaries may teach them. We are confident that you will love this mission experience. We anxiously await your arrival and the blessings you will bring to this work.
Dramatic Changes
Mongolia, commonly known as the Land of Blue Skies, is located between Russia on the north and China on the south. It is a developing country, after having been under Soviet domination for a rickety seventy years. Since 1990, Mongolian has seen dramatic changes with new businesses, new products, new ideas and new government. Ulaanbaatar is the capital city with approximately one million people living either in ger districts (long strips of fenced-in housing plots that surround the city) or in apartments. The rest of the 2.9 million people live in the countryside — in small cities or out in open spaces.
Religion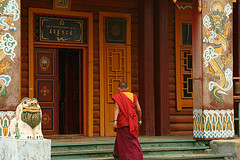 The dominant religion in Mongolia is Buddhism, but Christian religions are taking hold. The membership of the Church of Jesus Christ of Latter-day Saints is growing steadily. Two new chapels were dedicated in January 2007, bringing the total number of LDS-owned chapels in Mongolia to ten. We have two districts and twenty branches in the cities of Ulaanbaatar, Baganuur, Nalaikh, Sukhbaatar, Darkhan, Erdenet, Moron, Zuun-Kharaa, Khovd and Choibalsan. Our mission's compliment is 130 young missionaries and 14 senior couples.
What to Bring
You are probably most concerned about what to bring (and what not to bring) with you to Mongolia. You will experience four seasons, but primarily short summers and long winters. The clothing list sent by the Missionary Department covers basic needs, but we will add a few insights. There is an old Russian saying: "There is no such thing as bad weather, there is only bad clothing." Winter can begin quickly, usually in September and it can still be quite cold into April and May. Our missionaries use public transportation and taxis, along with much walking to get around. Sturdy walking shoes and durable, simple clothes are most practical here.
Climate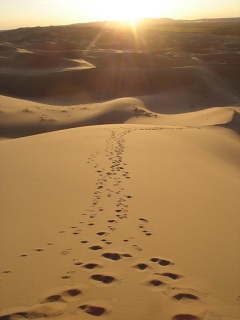 The countryside cities are exceptionally cold in winter, and there is more walking and more exposure to the elements there. If you already have warm winter clothing, bring it, but the cold air here is probably colder than you've ever experienced before. Having said that, our missionaries all seem to adapt and find ways to cope with the climate. Faces get the coldest because they are exposed. Everyone wraps scarves around their necks and mouths. They pull hats down over their ears, leaving only their eyes and noses out in the open. Once inside, it can be quite warm. Your apartment heat is regulated by the government for the majority of the cold months and you can not adjust the temperature. Summers are generally delightful.
Clothing
It is important to layer your winter clothing so as to block out the cold and wind. You will need a warm layer under your suits, such as thermal garments or an extra pair of long underwear. However, we do have a supply of thermal garments that missionaries have left behind in Mongolia having only been worn once or twice during their mission. You may not need as many sets of these as you think. Two or three pairs would probably be sufficient. Two coats are needed for different times of the year – one being a three-quarter or full-length down-filled coat, and the other a raincoat with or without a zip-out liner, both big enough for a sweater or suit coat under them. Both coats may be bought here, keeping in mind that winter coats aren't sold until October or November and they are gone by February or March. Considering weight restrictions on your luggage, if you will let us know, we can usually lend you a warm coat upon your arrival until you can purchase something. If you arrive in the early winter, plenty of warm clothing is available. Winter coats cost $35-50. If you arrive during spring/summer, you can wait until fall to purchase winter clothing. Spring/fall coats cost $25-35.
Footwear
Winter boots should be insulated, waterproof, and roomy enough for heavy wool (not cotton) socks to be worn inside allowing the toes to wiggle. They should have good tread for walking on ice! Mongolia does not get much snow. What snow does fall is compacted into ice on the roads and sidewalks. Fur-lined boots are available here for $25-90. Many who brought minus 50 degree boots from America have only worn them once. In talking with the missionaries we have learned that many get by without boots altogether as they find it difficult to remove and put on boots at the homes they visit. Doc Martin shoes will crack in the cold weather. Shoes are available here, but sizes 12 or larger may be difficult to find. Good insoles are important for walking comfort.
Cold Weather Clothing
A warm winter cap is necessary. Frostbite is a concern with the cold wind, so you will need warm coverings for your ears as well as your neck and chin. Ear bands, neck gators and 180's are good. Scarves, hats, gloves, and wool socks are all available here in winter. Leather gloves should be fur-lined. Thermal and regular garments can be bought here. Shoe shine kits, laundry bags, duct tape, and umbrellas are available here. We suggest bringing one or two two-pant suits. You can have suits tailor-made here. The cost for making a suit in Mongolia is $40-50. The legs of your slacks will get dusty and muddy quickly.
Food
Missionaries live in furnished apartments with blankets and pillows provided. You should bring towels and personal items as listed in the Missionary booklet. The electricity here is 220 volts—adapters and transformers are available. Barbers are inexpensive. Bring needed medications for the full duration of your mission (see the list below). Most items needed for basic cooking, including fresh vegetables, fruits, meats, breads, pasta, rice, and dairy products are abundant in Ulaanbaatar. In outlying areas, fresh produce is usually available, but with limited selections.
Miscellaneous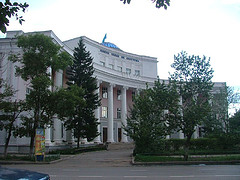 You do not need to bring hangers. Bring a small key chain flashlight for dark stairwells and apartment entrances. Bring contact lens solution, and sunscreen. Sundry items such as razor blades, shampoo, soap, lotions, deodorant, toothpaste, etc. are readily available. Bring a few photographs of you and your family to share with the Mongolians – they love pictures. The Mongolia Mission rules limit the missionaries' music selection to church music only.
Medications
Because medications are not readily available in Mongolia, this is a list of suggested items you might want to bring with you in addition to the basic list in the Missionary Booklet you receive. Be sure to bring any personal medications, such as for allergies or acne etc. Bring enough personal medications to last the full duration of your mission. The medical problems we encounter the most here are: intestinal upsets, head colds and coughs. You will need the following:
Lotrimin (antifungal cream for athlete's foot) – one tube
Pepto-Bismol (upset stomach) – one box
Imodium AD 9 (diarrhea) – one box
Ibuprofen or Tylenol – one bottle
Keflex 500 – 80 pills
A cold/cough medicine – one bottle or box
Claritan (loratadine) for summer allergies
Wart remover solution
One-a-day vitamins
Insect repellent – 1 spray bottle or can
Neosporin or antibiotic cream/ointment – one tube
Vaseline
Finance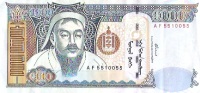 Missionaries are provided with debit cards which access only their allotment account set up by the mission here in Mongolia. No other funds are put into that account except the monthly allotment allocated by the mission office. The allotment is generous enough to fund all expenses except souvenir purchases. If a missionary needs more personal money occasionally for film, gifts, clothing, etc., it would be best to use a Visa debit card from a home bank. We suggest that a parent's name also be put on the debit card account to ease replacement if the card is lost or stolen. Please do not make deposits into a personal account for a missionary to use on a regular basis. Not all missionary companions have substantial financial means, and it is important for companions to work together financially. A mission is a good time to learn about budgeting and use of sacred funds.
Mail / Email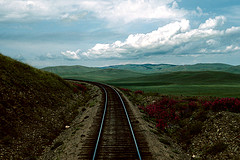 Proverbs 25:25, "As cold waters to a thirsty soul, so is good news from a far country." Missionaries look forward to sending and receiving mail. Mail comes by Missionary Pouch from Salt Lake City each week and is delivered to all missionaries as soon as possible. Those serving in the countryside will not receive mail as promptly as those in the city. Beginning November 1, 2007 only the following items may be sent through the pouch.
Postcards
Letters that are single sheet, folded into three panels, and taped at the top only.
No envelopes are allowed. Letters sent in any other manner will be returned to the sender. All letters should be sent to the mission office. Delivery to a personal address is not possible because there are no mail boxes at private abodes. This method for mailing to our mission would probably be most useful for letters coming from North America. Correspondents from other countries would mostly likely want to use the direct mailing address. The mission office does not have US stamps for missionaries using the US pouch, so bring some with you. Pouch mail to the States leaves here on Tuesdays. Missionaries have access to email through public internet cafés. This is to be used for one hour only on missionary preparation day (Friday) and is restricted to family use only. All missionaries are to email from a secure site, using only "name@myldsmail.net".
Packages
It is expensive and sometimes unreliable to send packages to and from Mongolia. Parents sometimes send items which can be purchased here or which the missionaries really cannot use. Parents should be practical when considering items to send to you. Do not have them send expensive items. Missionaries quickly learn to be flexible and adapt to the conditions here. We have one special request for parents: When you send a package, it would be nice if you could include a card or even a small gift for the companion — it's always fun to open boxes together and share the surprises.
Two Years Hence
When the time comes, if parents are interested in coming to Mongolia to pick up their missionary, they should contact the mission office for specific information.
Update
12 Feb 2009 The source of this material has been clarified.