On our way back from Mountain Meadow Monument Jill and I stopped by Old Iron Town State Park. There is a sign located along highway 56 about 20 miles west of Cedar City. At the sign we turned south and traveled on a gravel road for approximately five miles to the ruins. The park is free and open year round during daylight hours. It appears that Old Iron Town is also referred to as Iron City and Little Pinto. I will just call it Iron Town.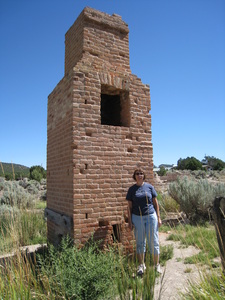 Earlier Iron Works
Lack of iron was a major concern to pioneers who began settling in Utah in 1847. When iron deposits were discovered in southern Utah, Mormon leader Brigham Young called for volunteers to colonize the Iron Mission area. A site near Coal Creek, now Cedar City, was selected in November 1851 for the iron works but the foundry was eventually closed in 1858.
Iron Town
Iron Town, founded by Ebenezer Hanks, was Iron County's second attempt at mining iron. The town had an iron furnace with a 2,500 pound capacity and was operated from June 1868 to 1877. There was a brick schoolhouse, machine shop, blacksmith shop, pattern shop, molding shop, erastra (grinding device), and two charcoal kilns. By 1871 a post office, boarding house, butcher shop, and general store were added. While Iron Town seemed prosperous at the time, it only operated for nine years, closing because of the lack of sufficient transportation to Northern Utah for the iron ore and the money panic of 1874.