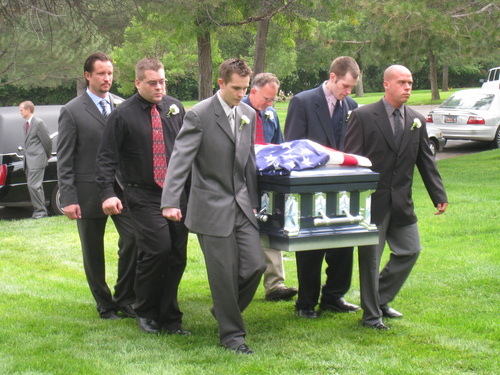 Uncle Keith died of cancer last Thursday. He was 75. I remember him as a gracious host and a man who was always happy. I recall that when my own father died I was asked to dedicate the grave. I didn't know how to do it but Uncle Keith helped me through it. I want to make a post here for those who were not able to attend the funeral and also something to remember Keith by.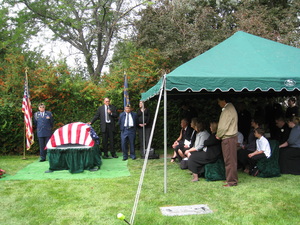 Keith
Samuel Keith Utley was born in the tiny town of Flowell, Utah, on December 24, 1932, to Von Samuel and Zola Brower Utley. His fondest memory of being a boy was playing on the Millard High School sophomore basketball team with his pals Alton, Paul, Sam, and Andy. Keith fought in the Korea War with the now famous Miracle Battalion, the 213th (now the 222nd) of Southern Utah boys that all came back from Kap Yong. Keith began his career with Mountain Fuel, which would later become Questar. He began on the street crew digging ditches, but worked his way up, over the course of 38 years, to Superintendent of Customer Service.
Glenna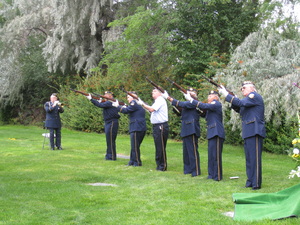 Keith and Glenna's passion for the game of golf took them to Southern Utah, their second home and playground among the red rocks and warm air. He loved Utah and its beauty. They traveled the world in their retirement and were very happy together.
Services
We attended the viewing, services, and burial yesterday at Valley View Funeral Home in West Valley City. I took a few photographs at the grave site. I never know what is appropriate at funerals in the way of photography so I tried to be discrete. The chapel was packed with people. I didn't think that everyone would get in but they did. I jotted down a few notes during the services of what his children said.
Sharilee
Sharilee was one of the speakers and she said that her father worked hard and always had a second job. For a while it was cleaning a bank with which the children helped. On the day he died he arranged for a dozen long stemmed roses to be delivered with a card that said, "All My Love." It was Glenna's birthday.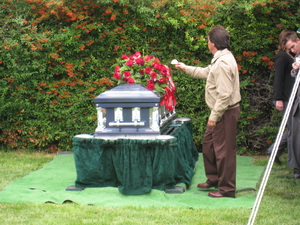 Suzanne
Suzanne told of her father getting up early every day to do his exercises which he did all his life. He enjoyed a good movie or show. He could fix anything. Suzanne said that she worked on cars with her Dad because the boys didn't want to. She said that one time when her father was under the car she tried the horn to see if it still worked without the key in the ignition. Her father let her know it still worked with a few curses. He loved football and played basketball with his friends at Questar. Even though he worked two jobs he had time for a garden and would make sure it was weeded.
Glen
Glen spoke about how Dad loved the cabin and liked to cook breakfast. He was great at omelettes and everyone had their own special order. He liked to cook steak over a fire pit. Glen was the last child at home. When he told his father he was marrying Susan, Keith began moving his furniture out of his bedroom before he even had an apartment.
Grave Site
After the grave was dedicated there were three rifle volleys fired over the grave. This custom can be traced to the European dynastic wars, when fighting was halted to remove the dead and wounded. Once an area was cleared of casualties, three volleys were sent into the air as a signal to resume fighting. Glenna was given the folded flag and the pallbearers laid their flowers on the casket. Keith's biography, along with photographs of his life can be found at Everlasting Memorial.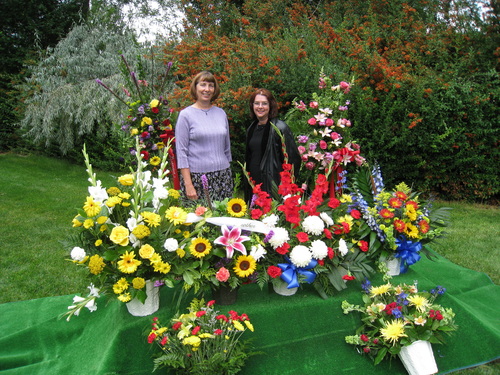 My grandmother's and great grandmother's graves were about a hundred feet away so we went over to see them.