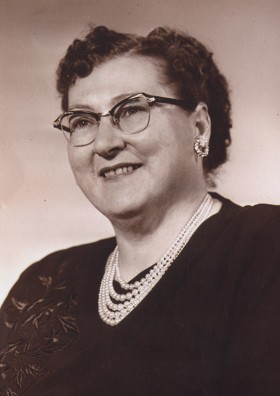 My guest writer is Jill Willoughby, oldest grandchild of Edith Andersen Holst.
This is the second of three parts of the history of my grandmother, written by her on 21 May 1960. I have included Edith's handwritten history in the first post.
Edith Andersen Holst, born 25 March 1908, died 10 August 1966, age 58.
I was married in the Salt Lake court house August the 18, 1927, then married in the Salt Lake Temple, 3rd of October 1928 — before Dolores was born. We first lived in the upstairs of mother's home for a few months. We then bought a new bedroom set with pink roses painted on it, new grey stove and blue kitchen set. I was so thrilled with it all.
Then we moved down to Gram. Holst till we was able to move in a 2 room apt at Aunt Bell Squires on 7th North Main. We lived there when Dolores was born. I remember when Uncle Dave broke his leg. When Dolores would cry toward morning Uncle Dave would make Aunt Bell get up and come & get her, change & play with her. They both were like angels to us all & we loved them very much.
We then moved to 6th North & Main in a 2 room & a room upstairs. Robert and Glenna was born there. We thought a new one was on the way and we decided to build on. Bill Smith came down and started to dig the foundation in. While we were building we lived with my mother Zina.
I worked in the cannery every season and picked strawberries. Then I went to work at the American Sportswear. I have worked there about 20 years. When I was 17 years old I taught Sunday School with Florence Dunn also after I was married a few years. Ross and I are on the old folks committee, put in 1959.

To be continued.
The Edith Series
Posts in the series will be added here as they are published.