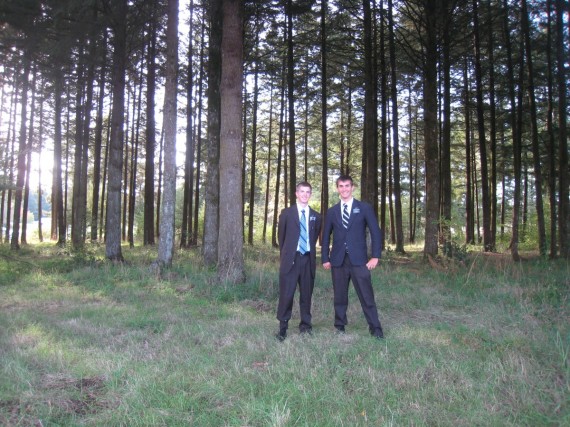 Thanks for all the great emails. I am glad that everything is working out good. We had a great week again. It always gets better and better.
Raberta (the 73 year old investigator) came to church again. She is not shy at all and has lots of energy. She loves Relief Society and calls them her sisters. She absolutely loves church. She tells everyone how many churches she has stopped going to because she wasn't comfortable. She feels comfortable around us and she told Relief Society how she was going to be baptized. They told her to then learn the lessons and make sure she understands things. It is quite the experience. Raberta is really excited for the Halloween party or trunk or treat. She is going to be a witch and she gave us a preview of her witch laugh. It was so real it freaked us out. It'll be lots of fun.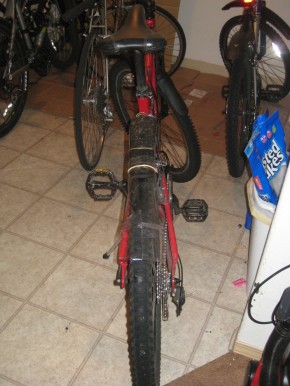 We experienced a little bit of the rainy season on Sunday and yesterday. It poured buckets of rain and then rained some more. We were tracking for part of it and got really wet. Lucky we had a dinner appointment soon and the members helped us dry off.It looks like I'll be using my winter Mongolian clothes that I kept in my suitcase, so that works out well too. The wool socks have been a great investment. Steven's rain coat he never used works really well.
I fixed up some broken bike fenders that were here in the apartment. I adapted a coat hanger and attached it to the bike. It wasn't quite long enough so I cut some plastic off of a cinnamon roll case and it works just like a normal fender. I was very pleased with it so I sent a picture.
The scholarship looks great. I had no idea it was four semesters. That is even better! Sounds like everything will be taken care of for me.
Thanks for all the sacrifices you have all done to allow me to serve my mission. I know the Lord has blessed me as I have served and continue to serve.
Love, Elder Willoughby
Elder Daniel Willoughby is serving in the Washington Kennewick Mission. If you want to communicate with Daniel, write in the comments or use one of these addresses.