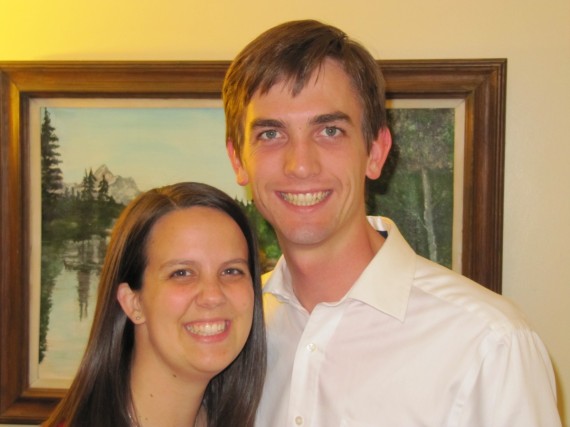 The short version: The wedding is on Wednesday 15th December 2010.
The detailed version: The proposal was kept top secret. No-one knew. Steven helped to figure the ring size from photographs by counting pixels. So he knew that a proposal was coming but he didn't know when.
Jake explained to me in an exclusive interview for Rickety blog that he wanted to execute an inverse proposal. It works by asking for her hand in marriage at the beginning of the evening, and then the rest of the evening can be enjoyed as an engaged couple. It also contributes to being a complete surprise. I added that if she says no then you can cut your losses and cancel the rest of the evening.
Once Steven had figured the ring size from pixels, Jake bought a cubic zirconium, to preserve the surprise, on Friday 8th October. On Sunday 10th October Jake knew he was going to ask Rachel that day but didn't know exactly when. In Testimony Meeting at the Davis Park YSA Ward, Bishop Visser gave a strong testimony about not delaying important decisions. With that, Jake decided the proposal was to be done as soon as possible.
Jake drove Rachel towards her home but turned off and drove to their favorite hill nearby. Rachel noticed but didn't think anything of it. Jake suddenly stopped the car and immediately got on one knee, showed the ring, and asked the question. Rachel was so shocked that she did not say anything for a long time. Jake eventually said, "You haven't said 'Yes' yet." Rachel responded, "Yes."
The following day, Monday 11th October 2010, Jake took two of my home-made candles and arranged an Olive Garden-to-go candle-light dinner.
On Monday 17th October Jake and Rachel will pick up a ring (with a real diamond this time) that Rachel has chosen.
Thus was executed a flawless inverse proposal. Jake, you should work for the military.