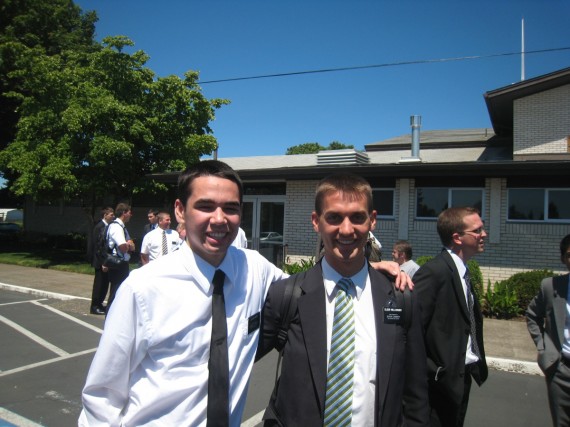 So Wednesday we picked up our new companions. My companion is Elder Hardy from Atlanta, Georgia. He lived close to where I served for three weeks, so that was really cool. He plays the guitar and had a job working at a pest control company selling door to door. He has lots of good ideas that work for tracting, but we keep in mind that following the Spirit is most important. We have had many great experiences already, which comes from working with new missionaries. They are fresh from the MTC full of faith, desire, and excitement which does wonders.
I was prompted to turn down a street that I'd never really noticed before. As it so happens we talked to a man and he allowed us to teach him about the restoration. We gave him a Book of Mormon and said we could come back. The road also was a shortcut to where we wanted to get to. I was grateful for the guidance of the Spirit and it strengthens my testimony that the Lord uses us as instruments. I think rarely do things happen by coincidence especially in the mission field.
At church there is a girl that has been coming to church for about three months. With family problems etc it has prevented her from being baptized and meeting with us. We hope to meet with her soon and she'll be baptized. That should be exciting.
With the push to have effective plans for each hour and increased desire to find people to teach I expect great things to happen. The Lord has blessed us already. Thanks for all the emails. Good job posting on Mormon.org Dad. It looks like its getting really high-tech. Where are you going on a cruise again? Ask Matt if I'm still vice-president of Fence4u too. Thanks.
Love, Elder Willoughby
Elder Daniel Willoughby is serving in the Washington Kennewick Mission. If you want to communicate with Daniel, write in the comments or use one of these addresses.