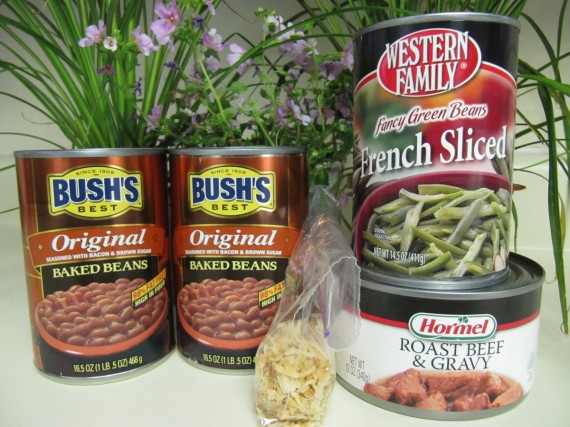 Yesterday I reviewed the excellent new book It's In the Bag by Michelle and Trent Snow. Everything you need for a meal comes from a bag out of your food storage. I figured I ought to try one of the simpler recipes so I went for the Uglier than Heck Soup. However, I didn't have all the ingredients so I chose the Beefy Bean Casserole.
For tonight's meal I grabbed my imaginary bag and emerged from my food storage with the items in the photograph above. The plants are for decoration, not for eating. The small sandwich bag contains 1/4 cup of dried onions.
I emptied all the contents of the cans, except for the sliced green beans (heat in a separate pan), into a pan and stirred until hot. The recipe calls for the gravy to be drained from the meat but I like to use it in the mix for an extra beefy taste. By the time the meal is heated, the dried onions have reconstituted. Serve with bread. For more about the author and her books see Michelle Snow's website.
The casserole was excellent — I was surprised at how well it tasted. All the men in the family ate while Jill was with her visiting teachers. We went back for seconds. There was only a morsel left for Jill when she came to eat. No worries, I am bound to cook some more soon. Makes a break from beans on toast.