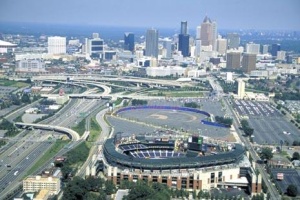 Atlanta, Georgia
Presented here are portions of Elder Daniel Willoughby's first email from the Georgia Atlanta Mission. Daniel's departure for Mongolia has been delayed.
I made it to Georgia and the plane ride was great. We had the transfer meeting today and I met my trainer. It is his preparation day today so I am able to email. The mission president is really nice and I sent a letter to you that should come soon. We haven't done anything yet so far except drive. I'm somewhere in Alabama. The people have a different accent. It's really exciting to be here and I am excited to be able to talk to others. It will be a good experience. My companion is from Africa. He went to school for three years before his mission at BYU studying Computer engineering. I told him my whole family basically has done things with computers. He seems really nice and a good missionary. I met one of the members too, Brother Wilson, who gave us a ride. I am really happy to be out in the mission field, I want to work hard here and do as much as possible as I have no idea how long we'll be here. I love you all and hope everything is going great. Thanks for all the pictures.
Love, Elder Willoughby.
If anyone wishes to ask Daniel a question or to send him a message, write it in the comments and I will make sure he receives it.